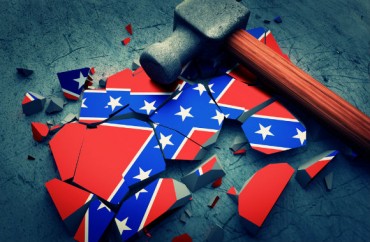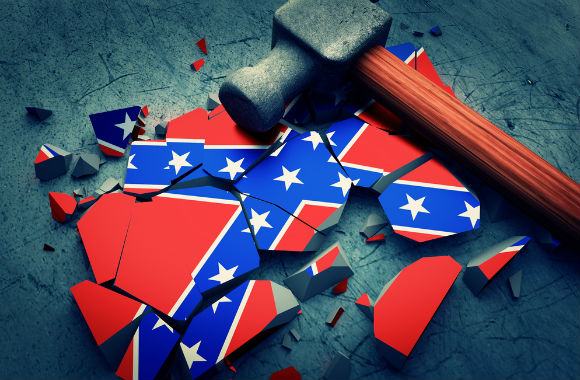 The friend of an American University student who was garbed in a Confederate flag hoodie caused a stir last Thursday, as the school's verbosely titled vice president of campus life and inclusive excellence acknowledged the attire "feels threatening to members of our community."
According to The Eagle, the man in the hoodie was legally permitted into the Terrace Dining Room's "Spanish Night" event. After an AU police officer (calmly) had a chat with him, he left shortly thereafter.
The day following the incident, that VP of campus life/inclusive excellence, Fanta Aw, sent an email to the school community stating "We recognize that the Confederate flag feels threatening to members of our community. As a university that values inclusion, freedom of expression and a culture of openness, we recognize that resolving the tensions that can arise between these issues is challenging."
Student Francis Hernandez said the man's attire made her so anxious that she "could no longer eat or enjoy her meal." She posted several photos of the gent on her Facebook page and expressed dismay at the AUPD's reaction. She referred to the entire situation as "violence":
It is preposterous how much effort AU can put into responding to incidents vs actually preventing and or addressing them the instant they happen. I was shaken by the incident, and appreciate everyone's kind words but it is critical to center Black students and their voices (particularly Black women and non-binary/trans Black folk) in this conversation. We must amplify those who are hurt most by our university. I have been reached out to and asked to post an official note from AU communications but have declined as I believe the note suggests neutrality and is performative (as most of AU is). The note suggests the hoodie "could be seen by many as offensive". The confederate flag IS a symbol of white supremacy. Wearing it IS an act of violence. The student knew what they were doing.
Hernandez wasn't alone. Freshman Kelvin Riddick said the hoodie's symbol "puts such a feeling of dread and oppression on people like me and minorities." However, Tiana Chichester said she thought there was a bit of an overreaction. "If he made racist statements or did specific acts other than wear the hoodie," she could have understood the actions that were taken.
"I thought that was a little dramatic to say the least." she said. Nevertheless, Chichester did acknowledge some students might be "shocked" by the image.
VP Aw sent a follow-up message Tuesday noting "the University recognizes how the symbol of the Confederacy represents much 'pain, division and a complex history of slavery of racism.'"
Based on past statements, Aw doesn't come across as a great defender of free speech; as noted by the Eagle, in 2017 she told the US Senate that while "freedom of expression is integral to the mission of higher education […] protecting it has become increasingly challenging in light of our national climate, changing attitudes of younger Americans about the First Amendment and ever more diverse populations on our campuses bringing diverse perspectives and expectations into constant tension."
Well, American University is a private institution, so it could rather easily ban things such as Confederate imagery.
Read the full Eagle reports.
MORE: Teacher tells student his 'Confederate' art project 'promotes racism'
MORE: Confederate flag image in bathroom sends UMD students to counseling
IMAGE: Blade Tucker / Shutterstock.com
Like The College Fix on Facebook / Follow us on Twitter