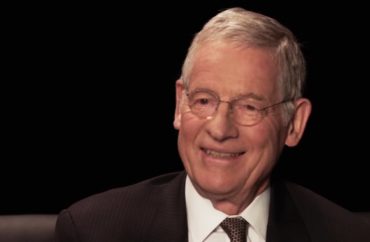 In an exclusive interview with The College Fix, venerable conservative Harvard University Professor Harvey Mansfield laments he is 'not very optimistic about the future of higher education'  
CAMBRIDGE, Mass. – Harvey Mansfield has been in higher education for a long time. In fact, he's been a faculty member at Harvard since 1962. Yet, after all those years, the conservative professor of government isn't hopeful about future of his trade.
"No, I'm not very optimistic about the future of higher education, at least in the form it is now with universities under the control of politically correct faculties and administrators," he said.
His remark came during a 35-minute interview in April in his fourth floor office at Harvard, where the 85-year-old Mansfield lamented universities for losing their aspiration, describing them as bubbles of staunch liberalism ruled by faculties that have failed to make universities reach their potential.
'Bubbles of decadent liberalism'
Once America's pride, Mansfield argues universities are no longer the marketplace of ideas nor the bastions of free speech.
"Now [universities'] sole function seems to be to attack a free country and to try to narrow freedoms to privileges, for those who have been designated victims," he says.
What universities have become are "bubbles of decadent liberalism," that teach students to look for offense when first examining an idea.
"They don't prepare you for the real world or for even an unreal world. They prepare you to be sort of lifelong college students," he said.
Who's to blame? Mansfield argues it's a combination of administrations, students and faculties. However, he also puts most of the onus on his counterparts.
"I would put the blame primarily on the faculty because they could have their way and if their way was of a vibrant and remarkable university, they could have their way if they wanted it," he said.
Too many professors, according Mansfield, give in and allow themselves to be cowed by deans and presidents that don't want their faculty to make trouble. However, Mansfield himself hasn't bought into the politically correct campus culture.
"You know, I try to use my tenure. If you are a professor and you have tenure, you ought to use it to say things which politicians who depend on getting votes can't say," he says.
Universities don't know why they exist
Mansfield argues that higher education isn't sure anymore why education is higher than anything else. For him, the current state of higher education stems from the current conception of culture.
Speaking in philosophical and theoretical language, Mansfield said culture used to mean refinement. Today, he says it "just means the way a society happens to think and there's no value judgement in it any longer."
"With this, universities have lost their sense of aspiration, of providing direction or questioning or thought," he said. "So I think this is a general malaise of higher education. It doesn't know why it exists."
Though, that isn't the biggest change the government professor has seen in his more than half century in higher education. That belongs to the 1960s, and the conception of liberalism that decade ushered in.
"What happened then was students who were mostly liberal and the faculty who were mostly liberal turned against themselves. The late [1960s] was an attack on liberalism, not on conservatism," he said.
He adds the 1960s led liberals away from being concerned with liberty, with them losing a sense of speaking for Americans and humans as a whole and instead focusing on particular groups, like blacks and women.
"So, the universal ideas were turned into ideas for promoting the tribe, a kind of section within our democracy," Mansfield explained.
What it led to, he says, was the labeling of certain social groups as "officially designated victims."
"We have a society now of officially designated victims plus the rest. In the recent election, I'd say the rest took notice and rebelled," he said.
'Conservatives get a better education'
In an era where conservative speakers are often shouted down, Mansfield urges right-of-center students to continue inviting speakers and even expand their efforts. He called on students to bring in right-of-center speakers with academic respectability whose work can be held up as reasonable and sensible even if unpopular with the left.
"Invite someone who you would really like to learn from, not so much someone who's there merely to outrage others or provoke others," Mansfield said.
Such speakers include those like Charles Murray and Heather Mac Donald, the professor said. Both have been shouted down by campus protesters this year.
As for conservative students worried about being labeled and shut down on campus, Mansfield suggests they find those with similar ideology early in their time on campus and join or organize groups around their beliefs.
And they should take on their liberal counterparts, too. Mansfield said students should develop arguments as it'll only help their thinking and improve their education.
"With your peers, you can react and that's worth doing. You get a label, which means a reputation, which means people will exclude but you also get an advantage because conservatives get a better education than liberals do. They challenge more," he said.
MORE: Scholar IDs 'axis of intolerance' killing higher ed
Like The College Fix on Facebook / Follow us on Twitter
IMAGES: Youtube screenshot