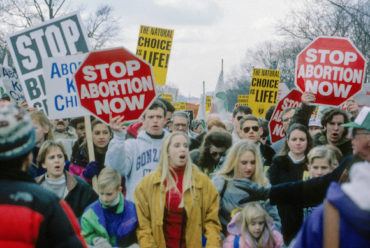 'This is the pro-life generation'
Bernadette Tasy is set to travel nearly 6,000 miles roundtrip for a cause she believes in. The graduate student at Fresno State University is headed from California to Washington D.C. this week to take part in the annual March for Life.
She's not alone. Eight of her college-aged peers are joining her. They are mostly students, along with one graduate.
"I've always been pro-life," Tasy told The College Fix. "I think this is a really great way for our group, our Students for Life group, to be involved with becoming more active in the pro-life movement."
While similar marches against abortion take place across the nation, Tasy said this is the first time she and her peers are set to participate in the effort in Washington, D.C., which is by far the largest gathering of pro-life activists in the country each year.
"California is known as being the most pro-abortion state in the country, and our group is dedicated to educating our campus about the reality of abortion and supporting our pregnant and parenting students," she said.
Matt Lamb, director of communications for the Students for Life of America, said students from across the nation are set to converge in the nation's capital for the march, slated for Friday.
"I know we have groups coming from all over the country, including for example, Colorado, California, and North Dakota, to the March for Life and conference," Lamb said in an email to The Fix.
Lamb said most young people are decidedly against abortion, a reverse of trends from years ago. He cited a recent poll that found "7 of 10 Millennials support limits on abortion through specific policies like parental notification, limiting abortions later in pregnancy like at 5 months of pregnancy, and opposition to government funding of abortion."
It also found only "7 percent shared the position of the Democratic Party Platform – abortion without any exceptions and funded by tax dollars."
"This is the pro-life generation, and millennials in general, even independents and Democrats, have pro-life views," Lamb said.
John Ritchie with TFP Student Action Director, a Catholic-based activism group, echoed this sentiment.
"The annual March for Life in Washington, D.C. is not a flash in the pan, but a movement with tremendous dynamism," he told The Fix via email. "The movement is youthful, persistent, determined, and enthusiastic. The enthusiasm is also contagious, because local marches for the unborn have been organically spreading from coast to coast."
He added the march has become an international movement, as there are similar events in Poland, Ireland, Italy, Holland, and one in Japan that happened for the first time last year.
Gregory Murphy, an eighteen-year-old student in Ireland, says that he tries his best to participate in the March in America every year. "It is so important to publicly show the world that the pro-life movement is big, and will win with God's grace," he wrote in an email to The Fix.
He said that he participated in his first march in Ireland in 2006 at the age of six. His first time participating in the American march was in 2009, and he has been to five marches in D.C. since.
"You may not realise it, but the March for Life in America gives Europeans like me a lot of encouragement," he wrote. He stated that the outcome of a recent referendum overturning an abortion ban was a "big hit" against the pro-family movement.
"To see so many Americans marching against abortion is very, very encouraging to say the least. It is an honour to come here and participate. I would like to export the enthusiasm of the pro-life movement here to Ireland," he continued.
Matthew Loveton, a student at Sierra College in California, told The Fix that he started attending the march in Washington D.C. with his high school in 2014, and he has attended every year since.
"The reason I am traveling so far to attend the March for Life is because I believe that every child has a right to life no matter if they have been born or not," he wrote in an email.
"Also, participation in the March for Life can always be more encouraged in communities because the more people that take a stance the better," he continued.
The trip from California will take a full day and will involve missing classes for Tasy and her fellow students, but the opportunities to connect with the greater pro-life movement and leaders who share the same passion for the movement makes the trek worth it, she said.
The stakes are also more important for Tasy, as she mentioned that she and her group are working against the passage of California Senate Bill 24, which would require and provide funding for public universities to provide abortion medication to students on campus, usually in the form of an abortion pill that can be used up to 10 weeks into pregnancy.
"It's especially important that we use our passion and knowledge that we gain from this weekend to effectively spread our message," she said.
MORE: Millennials turn against Roe v. Wade: survey
IMAGE: Mark Reinstein / Shutterstock
Like The College Fix on Facebook / Follow us on Twitter