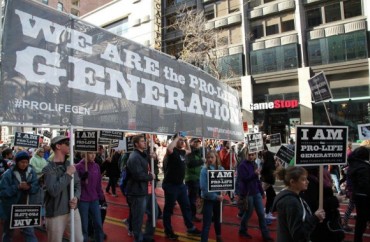 Even opposed to increased access to abortion pills
A plurality of millennials supports the full reversal of Supreme Court decisions that enshrined abortion on demand until fetal viability, according to a new study commissioned by the nation's largest pro-life student organization.
The survey of 18-34-year-olds found only 7 percent who support unrestricted, federally funded abortion, as well as widespread ignorance about the effect of Roe v. Wade and Doe v. Bolton, said the Institute for Pro-Life Advancement at Students for Life of America.
When millennials were informed that Roe permits abortions through the ninth month of pregnancy, opposition to the Supreme Court decision reached a majority – 51 percent.
Many also changed their minds about federal funding of Planned Parenthood when informed that community health centers provide the same non-abortion services as the abortion vendor.
"Millennials are willing to reconsider their point of view on abortion and abortion policy when presented with the facts, an opportunity for legislators and pro-life leaders nationwide," according to the study's executive summary.
The "online quantitative research" survey was conducted in early January by WomanTrend, a division of The Polling Company, among 400 adults. They self-identified as 18 percent Republican, 20 percent Democrat and 56 percent politically independent, with 52 percent women and 48 percent men. The survey had a margin of error of 4.9 percent.
SFLA's institute posted both the cross tabs and the topline report for the survey, which asked 18 questions about abortion specifically.
Didn't know Roe allows gendercide
Millennials' views on abortion are not neatly captured by the labels "pro-life" and "pro-choice," according to the survey. About 4 in 10 each identify with one label or the other, though a slight majority (51 percent) supports abortion in general.
Within this majority, 28 percent support "limits" such as parental notification and a ban on late-term abortions and federal funding for abortion. Combined with those who "broadly" oppose abortion (42 percent), seven in 10 millennials support limits on abortion.
Support shifted when the survey participants were told exactly what Roe v. Wade and Doe v. Bolton did.
Informed that Roe and Doe permitted abortion at any time in pregnancy, opposition to the rulings jumped 39 percentage points, reaching the same slight majority (51 percent) as those who initially said they support abortion in general.
Opposition grew another three percentage points (54 percent) when participants were told the rulings allowed abortion "because the mother doesn't like the sex of the baby" or "as a form of contraception."
MORE: Yale dumps Plan B vending machine after The Fix reports it's illegal
In light of learning what the rulings did, 41 percent of surveyed millennials said they support the full reversal of both rulings. Support for the rulings fell five percentage points to 35 percent.
Even before learning what the rulings did, 65 percent of those surveyed wanted "the right to vote on abortion-related policies in their state." This is just under the 70 percent who support at least some limits on abortion.
Only 16 percent disagreed with the right to vote on abortion-related policies, a close match for the 17 percent of participants who said abortion "should be allowed without exception." These participants want abortion "to remain as it is, in the hands of judges," SFLA said in a press release.
"After learning more about Roe's actual impact, women were more likely to be strongly opposed," SFLA wrote in an email Monday:
We found 20 percent of men and 14 percent of women strongly supported Roe while 23 percent of men and 13 percent of women somewhat supported Roe. But for those opposed to Roe, 18 percent of men and 14 percent of women somewhat opposed while 19 percent of men and 30 percent of women strongly opposed.
Non-abortion service providers 'more deserving' than Planned Parenthood
A third of the questions touched on federal funding for Planned Parenthood and the abortion-free community health centers known technically as federally qualified health centers, or FQHCs.
Support for Planned Parenthood flipped when participants were told the abortion giant "grosses over $1 billion dollars each year," with "more than $98 million in profit," and that its "political arm spent more than $30 million in the 2016 elections."
It went from 41 percent to 35 percent favorable, and from 36 percent to 41 percent unfavorable. Unfavorable ratings stayed in the low 40s when millennials were told Planned Parenthood's non-abortion services were declining and that it gets half its income from taxpayers.
Even though millennials supported Planned Parenthood even more after learning more about its business, they had little sympathy for the organization receiving taxpayer funding relative to other service providers.
Told that FQHCs offer services that Planned Parenthood doesn't, such as "well-women and well-child care," and treat more than 25 million Americans "in low income and rural neighborhoods," 48 percent of participants said FQHCs were "more deserving" of taxpayer dollars. Only 17 percent said Planned Parenthood was more deserving.
"This support for FQHCs indicates that millennials are open to using other options outside of Planned Parenthood," the executive summary reads. "These statistics demonstrate that women's services are not limited to Planned Parenthood, and further advertising and education about the availability of these centers and their services would benefit FQHCs."
MORE: Stanford med student says he was reported to Title IX for pro-life views
One of the more timely questions on the survey concerns the abortion pill known as RU-486, which is responsible for a third of abortions:
RU-486 can be deadly to women who don't know they are later in pregnancy than they really are or who are experiencing an ectopic pregnancy. While surgical abortions require an exam by a physician, abortion advocates are asking that RU-486 be sold to women on-line [sic], without a doctor's exam.
This explanation produced the second-most popular response on the entire questionnaire, after voting on abortion policy.
Asked how they feel about these pills being sold online without a doctor's exam, 56 percent opposed it, and 39 percent said they "strongly" opposed it. Only two questions had higher "strongly" responses: support for voting on abortion policy, and opposition to Roe and Doe given that they allow sex-selective abortion and abortion as contraception.
"Especially as we talk with Millennials, who are often outside the political structure of Washington D.C., the anti-abortion movement must be clear on what we are advancing and its impact on mothers, the preborn and taxpayers," SFLA President Kristan Hawkins wrote in a Washington Times op-ed Sunday.
"[L]abels like pro-life, pro-choice, access, health or women's rights often camouflage the true realities of the policies that today crisscross the country," Hawkins said. Elected officials who "want to engage in life-affirming legislation" should take note that "millennial voters are listening when you compassionately address the specifics of life in law," she wrote.
MORE: Pro-life students ejected from PP event as 'probable disruptors'
IMAGE: Sade Patterson
Like The College Fix on Facebook / Follow us on Twitter