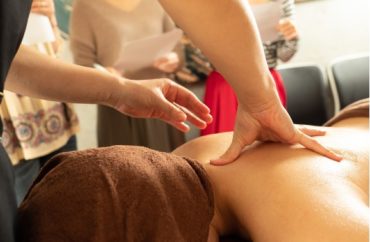 UPDATED
Acupuncture and 'oriental medicine' school may have been a prostitution front
An investigation by a higher education foundation identified at least 18 massage schools that could be fronts for sex trafficking.
One of the main schools is the American Academy of Acupuncture & Oriental Medicine in Minnesota, which has a number of employees who had previously been tied to prostitution.
The Minnesota Office of Higher Education discovered "explicit links between four internship site supervisors and prostitution." The report found 17 other schools in five states with similar problems, and a USA Today investigation released at the same time identified two dozen problematic schools.
Neither the report nor the USA Today article identified all of the schools. USA Today named several schools that had been charged with fraud, such as the Majestic Vocational Training Center in Colorado.
"The former owner of the [American Academy massage school], Changzhen Gong, denied the state's claims and said he was never given a chance to refute them," USA Today reported.
The Seldin/Haring-Smith Foundation report quoted the Minnesota Office of Higher Education investigation, which found "[an] unlicensed internship supervisor with a previous arrest for prostitution," "[an] unlicensed internship supervisor who previously had lost a massage parlor business license after employee's arrest for prostitution" and a general lack of record-keeping, which is a red flag for potential sex trafficking.
The College Fix spoke with one of the researchers, Ellie Bruecker. She did not identify any further schools when asked by The Fix.
Bruecker explained that the 18 schools identified as fronts for sex trafficking came from responses from 15 of the 90 state agencies she reached out to for information. Bruecker stated she had "a total of 15 phone interviews" from individuals who suspected sex trafficking at these schools.
"That person gave me two more names, and those two people gave me additional names–all state agencies or professional organizations that they knew had dealt with the issue," Bruecker said.
Researcher urges stricter oversight, Congressman intervenes
The Fix asked Bruecker what policy recommendations she has for local law enforcement and local government. She said there needs to be a conversation about regulation and accountability in higher education.
"If the current regulatory system isn't strong enough to protect students from sex trafficking operations, how can we hope to protect them from schools that are just poor quality?" Bruecker asked.
She added: "I think this work adds some urgency to the conversation around reforming higher education regulation…We can't expect state agencies to find something if they're not looking for it.
"States can invest in their higher education offices to ensure they have the proper training to look for red flags, but at a more basic level, to ensure that they have what they need to do their jobs well."
The concerns about sex trafficking at massage schools have gotten attention from a congressman.
"There is a well-established connection between sex trafficking and illicit massage parlors in the United States, and fake diplomas help facilitate the trafficking," Democratic Illinois Congressman Raja Krishnamoorthi said in a letter to the federal Department of Education in early July.
He asked Secretary of Education Miguel Cardona to respond to the Seldin Haring Foundation report and detail what steps were being taken to address the trafficking of human beings.
MORE: Senators introduce legislation to curb secret foreign funding of universities
Editor's note: The article has been updated to note that the report from the foundation quoted the Minnesota Office of Higher Education report and how Bruecker and the foundation came to identify 18 schools. An errant quote has also been deleted which said "no" instead of "to."
IMAGE: Mapo Japan/Shutterstock.com
Like The College Fix on Facebook / Follow us on Twitter