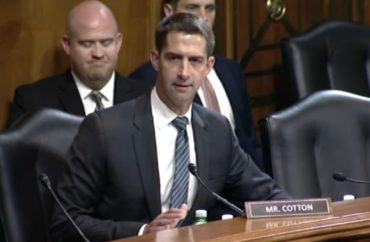 Republican lawmakers introduce new bill to combat foreign influence on college campuses
Republican Senators, including Tim Scott of South Carolina and Tom Cotton of Arkansas, have introduced legislation to increase transparency surrounding the money that foreign countries give to American universities.
The Foreign Funding Accountability Act would require the disclosure of full names of foreign entities, disclosure of the specific purposes of foreign gift transactions and clarification that gifts to university foundations are not exempt from disclosure.
It would also lower the minimum reporting threshold for disclosure—from $250,000 to $25,000.
Research finds problems with transparency
Multiple investigations have uncovered gaps between money received by universities from foreign entities and the amount reported to authorities.
A Wall Street Journal report in 2020 that found Cornell University failed to report more than $1.2 billion in foreign funds, including $760 million related to its campus in Qatar and about $1 million in contracts from Chinese telecom company Huawei Technologies Co.
A security analyst previously told The College Fix that foreign money presents a national threat to the country.
"Our conclusion was that the foreign funding presented a majority threat to our national security and the integrity of our education," Ryan Mauro, of the Clarion Project, told The Fix.
The national security think-tank researches foreign funding issues and Mauro previously urged the Biden administration to continue the strong oversight of international money that President Trump instituted.
One student shared with The Fix that he supports the transparency proposals.
Andrew Jose, a Georgetown University student, told The Fix via Twitter messaging that "no state actors should fund [universities] in a significant way…that compromises the University's independence, be they American or be they foreign."
Department of Education Higher Education Report Findings
A 2020 Department of Education report discovered that many colleges and universities across the country failed to disclose their foreign funding ties.
Confucius Institutes, public educational partnerships between colleges and universities in China and other countries, had one of the largest impacts on foreign funding.
The Senate Permanent Subcommittee on Investigations reported that China provided over $158 million of funding to place and operate Confucius Institutes on U.S. campuses. Nearly 70 percent of "schools required to file reports with the Department of Education failed to report gifts, contracts, or contributions in excess of $250,000, according to the report.
Chinese Communist Party influence on American education is another motivator behind the Foreign Funding Act.
The CCP "has made consistent attempts to infiltrate American colleges and universities," Senator Cotton said in a statement on the legislation. "Our bill will close donation loopholes, barring the CCP and other foreign agents from donating millions, or even billions, to levy influence and steal American intellectual property."
The National Association of Scholars, a faculty group, released a statement that praised the new legislation.
The NAS said:
The FFAA addresses the problem of undisclosed foreign funding flowing into our colleges and universities, money that frequently comes with strings attached. We are pleased that the FFAA includes key reforms that the National Association of Scholars has put forward. We have warned for years that foreign powers have purchased influence over American higher education.
"The widespread lack of transparency surrounding foreign gifts has attracted national attention for years. The nation is dependent on Congress to enact new legislation," the statement concluded.
MORE: Governor DeSantis signs legislation banning Confucius Institutes on public campuses
IMAGE: Senator Tom Cotton/YouTube
Like The College Fix on Facebook / Follow us on Twitter