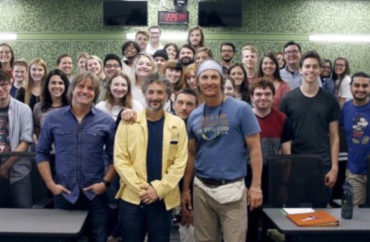 Actor required to undergo background check, prove he can legally work in the United States
Academy Award-winning actor Matthew McConaughey, worth an estimated $95 million, is being paid $6,000 this fall to teach his class "Advanced Producing: Script to Screen" with co-instructor Scott Rice at the University of Texas at Austin.
According to the offer letter McConaughey signed with the Moody College of Communication at the University of Texas at Austin, the actor will be paid $12,000 for each class he teaches independently, but $6,000 for every course he co-instructs with another professor.
The contract, obtained by The College Fix, says McConaughey will co-teach the class with Rice, but also encourages him to "teach and mentor students in RTF (radio, television, and film) and other areas of Moody College as a guest lecturer, speaker, and faculty participant in other events and activities as your schedule permits."
In late August, the university announced McConaughey, who won an Academy Award for best actor in 2014 for his role in the film "Dallas Buyer's Club," would be upgraded to professor status. The actor had been a visiting instructor at UT-Austin since 2015. McConaughey earned a film degree from the university in 1993.
In McConaughey's past classes, students were given a sneak peek into how his own movies were produced: In the fall of 2015 and fall of 2016, students studied the film "Free State of Jones." In the spring of 2017, students learned about "White Boy Rick." In the spring and fall of 2018, the syllabus included both "White Boy Rick" and "The Beach Bum."
This fall, the topics will be McConaughey's films "The Gentlemen" and "Mud."
"It's the class I wish I would have had when I was in film school," McConaughey said in a statement following the announcement of his promotion. "Working in the classroom with these students gives me a chance to prepare them."
Matthew @McConaughey has officially joined @UTAustin as a film professor 🤘 #HookEm #ThisIsTexas pic.twitter.com/qUBbmS76Ga

— UT Austin Tower (@UTTowerTweets) August 28, 2019
According to his contract, McConaughey's initial appointment period began on August 12, 2019, and runs through May 31, 2020. The appointment is subject to annual renewal.
McConaughey's contract with the university also stipulates that the actor must verify his eligibility to work in the United States and undergo a standard criminal background check required of all new hires. As a part-time faculty member, McConaughey will be supplied with a UT e-mail address and UT business cards, although the school has vowed to "work with" the actor to protect his privacy with regard to displaying his e-mail address or other contact information.
In 1999, McConaughey was involved in a very public incident when the police were called to his Texas home after he was seen dancing naked and playing the bongos while another man joined in, clapping along. Eventually, marijuana possession charges initially filed against him were dropped and McConaughey was released on $1,000 bond after spending nine hours in jail. "What's wrong with beating on your drums in your birthday suit?" said McConaughey in a 2016 interview in Playboy. "I have no regrets about the way I got there."
When asked if a standard professor applicant would pass a background check with an event such as McConaughey's on his record, UT-Austin spokesman J.B. Bird told The Fix the university follows national EEOC guidelines for all criminal background checks, "performing holistic reviews that look at the recency and relevancy (to the work that will be performed at the university) of anything that surfaces during the check."
"A 20 year-old citation for violating a city noise ordinance would not be considered relevant," Bird told The Fix in an e-mail.
According to his contract with the university, McConaughey will also be subject to all of the "Standards of Conduct" rules as laid out in the UT-Austin handbook for non-tenure track faculty members.
So far, McConaughey's campus promotion has brought the university worldwide attention and caused a stir among students. In an e-mail obtained by The College Fix, one student wrote to UT-Austin President Gregory Fenves, hoping the president would help convince McConaughey to join the student in dancing to Justin Bieber's song "Love Me" in a TikTok video the student was producing.
If McConaughey refused his request, "I would be more than happy to have the video done with you, especially if it's in front of the tower," the student told Fenves.
Fenves' Chief of Staff, Carlos Martinez, responded, declining the invitation and telling the student Fenves "does not endorse products that are not affiliated with the University of Texas at Austin."
MORE: Texas governor signs bill making sex jokes on campus a criminal offense
IMAGE: Twitter.com/uttowertweets
Like The College Fix on Facebook / Follow us on Twitter