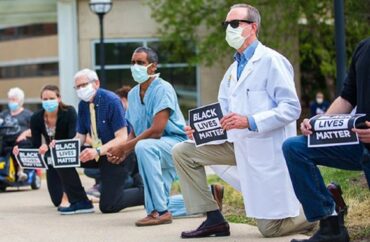 UPDATED
All schools must hire DEI leaders to remain accredited
Osteopathic medical schools that want to remain accredited must show they support "diversity, equity, and inclusion" according to the new standards from the accreditor of those institutions.
The American Osteopathic Association has recently revised its accreditation standards to include DEI commitments. All of its colleges have until July 1, 2024 to become fully compliant.
All colleges "must include a commitment to advancing diversity, equity, and inclusion (DEI) in its mission, values, vision, goals, or objectives," according to the standards.
They must offer an annual DEI training to all faculty and staff and "have space available for use by students in a manner intended to support diversity, equity, and inclusion, and must consult with students in the process of establishing such a space."
Schools must hire an administrator to oversee these DEI initiatives and provide resume copies for accreditation.
The standards have drawn criticism from Do No Harm, a medical advocacy group that seeks to remove identity politics from medicine.
"It's hard to say what impact this will have on schools," research director Ian Kingsbury told The Fix via a media statement. "Still, it's very clear that DEI initiatives come at the expense of merit and rigor."
Last chance to support student journalists during our Back to School fundraising campaign! We're very close to our goal of $25,000. The deadline for the matching offer is quickly approaching so please donate by Oct. 31 to help us meet the goal. Thank you!
Do No Harm also laid out its concerns on its website.
"These standards show how far afield major medical gatekeepers have gone from their core focus, which should be helping train the best and brightest doctors of tomorrow," the group wrote in an article.
The medical reform group reported that the osteopathic medical association also released data the same day the Supreme Court banned affirmative action, which showed a reduction in the percentage of white males enrolled in its colleges.
The news release "boast[ed] about its increases in Hispanic, American Indian, and black osteopathic medical school graduates, and vowing to continue DEI political activism as a primary goal of the organization," Do No Harm wrote.
Medical schools have regularly embraced DEI in hiring, promotions, and curriculum.
For example, Indiana University School of Medicine now requires faculty to submit proof of DEI activities as part of their performance reviews.
The University of California School of Medicine also prioritizes DEI and "anti-racism" in its curricula, as previously reported by The Fix.
Editor's note: The article has been updated to clarify who the accrediting group is.
MORE: UNM demands security fees from pro-life group
IMAGE: University of Minnesota Medical School
Like The College Fix on Facebook / Follow us on Twitter