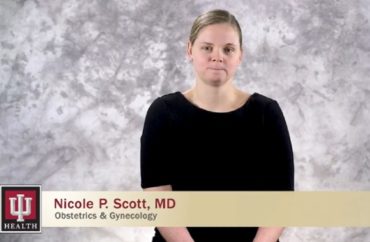 Dr. Nicole Scott implied pro-life and conservative students are of a lower ability than liberals
Indiana's new law which prohibited 95 percent of abortions and shut down independent facilities that kill preborn babies could lead to a lower "quality" of applicants to medical school, one administrator claimed.
Indiana University School of Medicine professor and OB/GYN residency program director Nicole Scott has frequently fretted about the state's new pro-life law, which went into effect on September 15.
Her latest comment is that pro-abortion students may not want to apply to IU's med school because there will be restrictions on their ability to learn how to decimate human life in the womb.
"We are about a week away from entering our recruitment season, which we'll be reviewing over a thousand applications, interviewing 120 people for next year's match of 10 OB-GYNs to train here in the state of Indiana," Dr. Scott told WTHR. "We're concerned this is going to affect the quality of candidates that we receive and certainly the education we can provide."
The College Fix could not locate Scott's email online and the med school did not respond to an inquiry sent on Wednesday that asked for clarification on her comments.
The Fix asked what Scott (pictured) meant by "quality of candidates" and if her assertion was that students who do not want to be abortionists or who are opposed to abortion are of a lower "quality." The Fix asked what studies she read that led her to this conclusion.
Students for Life of America criticized Scott's comments.
"For a medical school professor and administrator to imply that pro-abortion students are more qualified to work in healthcare than those who hold pro-life values says something truly sad about the state of medical education today," spokeswoman Caroline Wharton told The Fix via email. "In reality, it is the young medical professionals who hold pro-life views who are much more qualified to serve as our future doctors because they actually understand that the preborn child is also a patient with rights."
Scott's comment on the "quality" of students was not the only surprising claim she made.
The medical school professor also claimed that "no other specialty…is legislated to the degree that obstetrics and gynecology is and that really wears on your spirit."
By "legislated" she means laws against the killing of patients, which all medical fields must abide by, except in a handful of states that allow doctors to kill patients through euthanasia or assisted suicide.
By "wears on your spirit," Scott might unwittingly mean the burden on her soul from helping destroy innocent human life for years.
MORE: IU med faculty must push DEI under new policy
IMAGE: IU Health/YouTube
Like The College Fix on Facebook / Follow us on Twitter