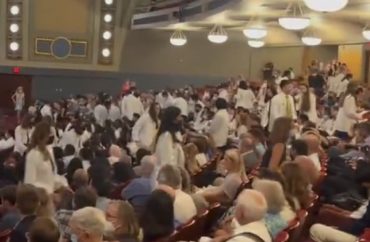 UPDATED
Activists failed to get professor booted from coveted speaking role
Medical students at the University of Michigan walked out at the beginning of a speech on Sunday by a professor who holds pro-life views.
The activists failed in their attempt to get Dr. Kristin Collier removed as the keynote speaker for the annual "White Coat Ceremony," which welcomes new medical students to the university.
Collier did not plan to speak about her pro-life views about abortion, but her mere stance on the issue caused a problem for some students, professors and activists.
The University of Michigan's former president Mary Sue Coleman declared that the higher ed institution would support abortion and appointed Planned Parenthood abortionist and professor Lisa Harris to lead a Post-Roe task force.
"I am planning on welcoming the new students to the profession and encouraging them as they begin this journey," Collier previously told The College Fix. A full version of the speech can now be viewed – the university originally made the video private.
Incoming medical students walk out at University of Michigan's white coat ceremony as the keynote speaker is openly anti-abortion pic.twitter.com/Is7KmVV811

— Scorpiio (@PEScorpiio) July 24, 2022
The dean of the medical school declined to remove Collier as a speaker.
"The White Coat Ceremony is not a platform for discussion of controversial issues, and Dr. Collier never planned to address a divisive topic as part of her remarks," Dean Marschall Runge wrote on July 13 to the med school community. "Our values speak about honoring the critical importance of diversity of personal thought and ideas, which is foundational to academic freedom and excellence."
truly grateful for the support, emails, texts, prayers and letters I've received from all over the world regarding the event that will happen today. i feel so bolstered by it. and for my team that have carried me daily thru this —I love you

— Kristin Collier (@KristinCollie20) July 24, 2022
"We would not revoke a speaker because they have different personal ideas than others," he wrote.
MORE: UMich head football coach says he has 'courage to let unborn be born'
Editor's note: Since publication of the article, the university has made the video of the event publicly available. The link to video of Dr. Collier's speech has been added to the article.
IMAGE: PES Scorpio/Twitter
Like The College Fix on Facebook / Follow us on Twitter