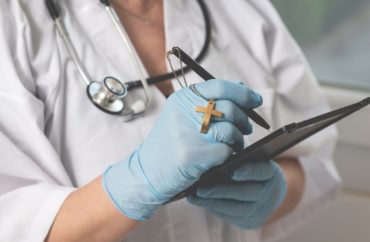 Pro-life leader: Schools push 'students to forsake conscience for politics'
Leftist politics are trumping the science of healing at medical schools throughout the U.S.
To remain accredited, osteopathic medical schools now must show they support "diversity, equity, and inclusion." And to be viewed as well-rounded OB-GYNs, medical students are feeling pressured to do elective abortions.
Gavin Oxley, the founder and CEO of Future Medical Professionals for Life, wrote at Real Clear Policy this month about the difficulties pro-life medical students face, noting how the curriculum "has been structured to encourage students to forsake their conscience for politics."
Currently, Oxley said medical schools require elective abortion training, with an opt-out option for students who believe "do no harm" includes babies in the womb. However, he said this puts an "unethical" burden on the students.
"Opt-out requirements apply when training is automatically required unless you choose to go through an administrative process that allows you not to participate," he wrote. "Such requirements place unethical pressures on medical students/residents to violate their conscience in order to not be targeted for their life-affirming beliefs."
Few OB-GYNs provide elective abortions, with one study putting the number at 14 percent. According to the American Association of Pro-Life OB-GYNs, aborting an unborn baby is not the essential medical care that groups like the Accreditation Council for Graduate Medical Education and the American College of Obstetricians and Gynecologists say it is.
On the contrary, Oxley said elective abortions are "antithetical to the Hippocratic Oath, as well as the Universal Declaration for Human Rights."
Yet, a doctor who wants to receive a subspecialty board certification must do their residency training at an accreditation council-approved program, he said.
The council also requires residency programs in states that prohibit elective abortions to "provide clinical experience in other states where the requirement can be satisfied to stay compliant," Oxley wrote.
Both medical groups have a huge influence on medical schools, and they have become increasingly politicized in recent years. As a result, Oxley, who also serves as lead operations supervisor and medical/law coordinator at Students for Life of America, said many medical students feel pressured to participate in elective abortion training.
"This pressures students to apply and attend residencies that include routine elective abortion training which, in turn, places social and academic pressures on them to not opt-out of the conscience-violating practice," he wrote.
Similarly, doctors and others have warned of the pressure to provide experimental cross-sex hormones and surgeries for children who identify as transgender.
In September, a presentation at the University of Arizona School of Nursing was exposed for encouraging nurses to ask patients as young as age 3 about their "gender identity," The College Fix reported at the time.
MORE: Medical school professors, doctors redefine 'fertility' to be more inclusive
IMAGE: Florin Deperin/Shutterstock
Like The College Fix on Facebook / Follow us on Twitter