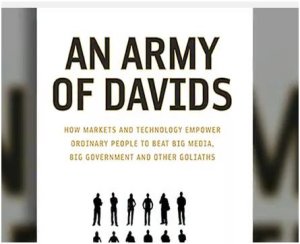 The name Richard Weinstein has been mentioned quite a bit over the last few weeks on television and radio. How come? Very simple: Because Rich has proven yet again that an average joe can do what the mainstream media can't … or, more accurately, won't.
I've known Rich since our college days, with one enduring memory being us (with several other friends) battling traffic on I-95 en route to the old Spectrum in Philly — to see the band Yes on their "comeback" 90125 tour. (Anyone remember "Owner of a Lonely Heart"?) He's an incredibly bright — and funny — guy, and he's quite stupefied by all the attention he's been getting.
That's because, again, he can't believe no one in the media — or, at least someone with more time and resources than he — didn't find the (damning) videos of Obamacare architect (and MIT professor) Jonathan Gruber way before he did.
1) What's your background?
I'm an investment advisor and financial planner her in the Philly area. I own a small business and work out of my house. Nothing sensational. Just kind of a regular guy. Have two kids, two dogs, two cats. Big lacrosse fan. Not much different than anyone else.
I have an accounting degree and MBA, and I also got my CFP certification. So, I have a pretty strong academic background.
2) How did you become interested in the Affordable Care Act (Obamacare)?
I'm pretty much an outsider to the law just like everyone else. My insurance got cancelled and I had to go find a new plan. I was kind of irritated because the president said without qualifiers that "If I liked my plan…" So, I though the law wouldn't impact me- probably just like everyone else that heard that. So when I lost my plan, I started paying attention. The Admin clearly wasn't telling the truth and the media was cheerleading. I saw these Architect people getting on the air and figured maybe they left a paper trail. Its not a paper trail but boy oh boy…
3) What has been the reaction by mainstream media types when you bring up what you discovered?
Most tell me that they don't have the staff to get into the weeds like I did. It's kind of disappointing actually. I get the feeling they all kind of knew this stuff was going on but nobody could really get the "money shot."
4) Now that many of these videos have gone viral, what's been the reaction by the media (as a whole)?
I think there were two in July and there are probably three more from this week. The media is really on to it and to me now. Funny, but nobody from the NBC, CBS or ABC has called. Mostly Fox, CNN and some Internet outlets. Everyone wants the next bomb shell. But people are catching up… and that's good. The Daily Caller got an excellent video today that I had but I think it was being held back by a major network to make a big splash tonight. They got beaten to the punch a bit.
5) So far, what's the "biggest" name to reach out to you?
You want me to name drop? Jake Tapper, Neil Cavuto, "Fox and Friends." Sorry, lost my train of thought as I literally just got a call from Byron York.
I've turned down four on-camera interviews so far. My face should not be on the poster of what's going on right now. Dr. Gruber's face should be. Plus, I have a face for radio.
6) You mentioned on a recent radio appearance that you have some more video discoveries. Can you give us a little teaser as to what they're about?
For now, I'm concerned about trying to get people to drink out of a fire hose. I have soooo much. I've been on this for a year. If I go too fast people's eyes will glaze over. So, for now I think focusing on the "stupid" videos is pretty strong. But there's much more and I guarantee the American people are going to be angry.
7) In your opinion, what will be the ultimate fate of ObamaCare what with the new Republican Senate and the upcoming Supreme Court case?
That's a good question. But that's kind of a policy question and I'm trying to stay away from those issues. I just want the American people to know what's out there and make their own decisions. What happens to the ACA is not in my hands. Either the Supreme Court will decide on the Halbig/King/Pruitt cases, or the Congress will figure out how to work on this.
**********
Most recently this past Wednesday, Rich was a featured guest of Philadelphia radio host Chris Stigall alongside — wait for it! — Sharyl Attkisson at the Philadelphia-adjacent Newtown Theatre. Check out the audio from the event.
Dave Huber is an assistant editor of The College Fix. (@ColossusRhodey)
Like The College Fix on Facebook / Follow us on Twitter
IMAGE: YouTube screencap of Glenn Reynolds' (Instapundit) book An Army of Davids.