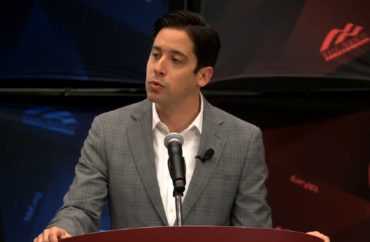 'We can summon the courage to assert that vision in politics or we can surrender to the Faucis of the world and muzzle ourselves forever,' Knowles said
Conservative commentator Michael Knowles recently spoke in front of an in-person audience at Ave Maria University about the "state church" of COVID panic and lockdowns.
The author and Daily Wire show host criticized the leader of this "church," Anthony Fauci, whom he calls the "high priest."
Knowles spoke at the Catholic university in Florida on April 8 at an event titled "Dr. Fauci: High Priest of Progressivism."
The event described the "tyrannical overreach" of Fauci and the "dangers of placing government officials on ridiculous pedestals," according to a description from the Young America's Foundation YouTube page. The conservative student organization hosted Knowles.
"I want to talk about the religion of secular progressivism, our state church which shut down our country this year. I want to talk about its high priest Dr. Anthony Fauci," Knowles said.
Knowles compared Fauci to a pontiff in the Catholic Church and said instead of wearing the pectoral cross, he wears a stethoscope. A "pectoral cross" is a cross often worn by bishops to signify their position.
Knowles went on to say that Fauci and the Pope are similar, but the only difference is that Fauci has "more power."
"Dr. Fauci is said to be infallible about everything, about anything he says, even when his infallible proclamations contradict his previous infallible proclamations," Knowles said.
Knowles pointed out the contradictions from Fauci, the director of the National Institute of Allergy and Infectious Diseases, about mask-wearing at the start of the pandemic.
"There's no reason to be walking around with a mask," Fauci said on March 8, 2020. '"When you're in the middle of an outbreak, wearing a mask might make people feel a little bit better and it might even block a droplet, but it's not providing the perfect protection that people think that it is," he said.
A few weeks later he advocated for the "universal wearing of masks," Knowles said.
The commentator also talked about preserving self-government and rejecting rule by unelected bureaucrats.
"This conception of self-government has a long history in our culture. It is rooted ultimately in our religion which holds that our creator endowed us with certain unalienable rights" Knowles said.
He argued that the premise of self-government is that "we the people possess reason and moral conscience which is a judgment of reason."
MORE: Harvard med school professor criticizes flawed COVID study
American citizens "can use those things with due humility and with deference to tradition to craft our own political order within the bounds set by the Constitution," the conservative commentator said. He said the culture of political correctness has caused some people in the conservative movement to give up or abandon their "standards."
He went on to argue that if there can be no distinction between "right and wrong, good and bad, true and false, then we can not govern ourselves."
"We will forfeit our freedom and our American way of life. We will be subsumed into the cult of secular progressivism with its own rituals and its own political order and its own high priests."
Knowles praised Florida for granting a "reprieve" to the "enforcers of this creeping state religion."
"We can speak, for now, we can gather, for now, we can organize, for now, we can articulate a substantive moral vision," Knowles said, "and then we can summon the courage to assert that vision in politics or we can surrender to the Faucis of the world and muzzle ourselves forever."
"The choice is ours, for now," Knowles said.
MORE: Infection disease expert rebukes Fauci's double-mask advice
IMAGE: YAF/YouTube
Like The College Fix on Facebook / Follow us on Twitter