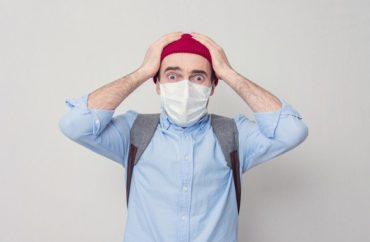 'Could be a detriment to your protection'
Double-mask? Only if you want your mask(s) to not work as intended.
President Biden's COVID-19 advisor Anthony Fauci, a holdover from the Trump administration, is getting publicly challenged by a new Biden COVID-19 advisor, Michael Osterholm of the University of Minnesota.
In an interview with WCCO Radio this week, the head of the university's Center for Infectious Disease Research and Policy said Fauci's recommendation to wear two masks at once to stop viral infections made no epidemiological sense.
"Masks, as they're defined[,] work in two ways," Osterholm said:
The first is in regards to how that masks fits. How well does it fit around you? It's like swimming goggles. They don't usually leak through the lenses they leak through the seal around your eyes or face.
MORE: UMinn research center misrepresents COVID study to double deaths
N95 respirators, which are worn by relatively few people compared to cheap cloth masks, are designed to filter out viruses through a "very tight face fit" combined with "electrostatically charged" filter material that traps viruses even as the "pore size lets air travel through easily," he said.
Doubling up masks – even N95s – defeats the purpose of their design by redirecting air to "blow in and out along the sides" instead of through the material, according to Osterholm: "Double masking could be a detriment to your protection."
The WCCO report continues the false narrative, however, that face masks stop viral infections by trapping "fine droplets and particles."
An aerosol expert at the University of Colorado-Boulder, Jose-Luis Jimenez, warned in Time last summer that aerosolized transmission (normal breathing) was the largest source of infection, and that people wearing poorly fitted masks (i.e., the vast majority of them) simply direct aerosols to those standing behind them.
The venue with the greatest risk of infection remains the home, yet even individuals with COVID-19 symptoms only infect household members in about a sixth of cases.
The rate of transmission without symptoms – the basis for the vast majority of COVID-19 restrictions by governments – is 0.7 percent percent in the home. (Even that rate may be too high.)
MORE: COVID transmission without symptoms in the home is almost nil
IMAGE: Anastasiya 99/Shutterstock
Like The College Fix on Facebook / Follow us on Twitter