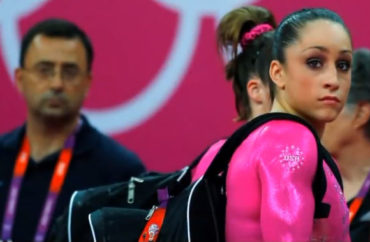 Former sex crimes prosecutor took 'prosecutorial stance' against him
A Michigan State University professor was found guilty of performing sexual acts on female students and athletes without their consent. He'll spend the rest of his life in prison.
But when a sober female student performed sexual acts on an intoxicated male student without his consent, the scandal-plagued university blamed the victim, suspending him for two years, according to a lawsuit filed just before Christmas.
A former student alleges that Michigan State's sexual-assault investigation of him was "tainted from the outset with gender bias" and violated his due process rights.
The university pursued a "blind, unlawful rush" to find "John Doe" guilty due to pressure the school was facing to avoid further "bad publicity," as well as potential loss of federal funding, based on its previous handling of sexual-assault cases, Doe claims.
The foremost among these was its handling of allegations against Larry Nassar, a professor of osteopathic medicine and USA Gymnastics team doctor. Prosecutors contend the university is "stonewalling" them as they investigate its handling of sexual-abuse reports against Nassar.
The suit notes that a member of the outside team hired by MSU to investigate Doe's case, Mark Ehlers, had a background as a sex crimes prosecutor.
Instead of approaching the case "as neutral fact-finder," the Kroll corporate investigator "took a prosecutorial stance," which caused "investigator bias." Ehlers didn't give Doe the specific allegation against him or the portion of the sexual misconduct policy he allegedly violated, due to "gender bias," the suit claims.
Because there were no "eyewitnesses" to the encounter between Doe and "Jane Roe," the resolution of the investigation "turned solely upon a credibility contest between Roe and Doe."
Yet the university deprived Doe the opportunity to "confront and question" his accuser and so-called witnesses at a live hearing, where he could have exposed Roe's credibility shortcomings, the suit argues. MSU failed to use "any ascertainable rationale or logic" when assessing the credibility and "evidentiary weight" of each party and witness.
MSU issued a conciliatory statement in response to the lawsuit. "The university's legal team is reviewing the lawsuit and hopes to work with the complainant's attorney to discuss their concerns," Emily Guerrant, vice president and spokesperson, told The College Fix in an email.
"MSU has taken many steps to improve how we respond to reports of sexual harassment and sexual violence," she continued, including more staff and training. It's working to balance its obligation to protect students from discrimination and sexual misconduct with conducting "fair and impartial disciplinary processes."
Accuser's claims require him to have 'four hands'
Doe met his accuser at several events held by his fraternity, considering her a friend while having "romantic feelings" for her. They went on a date but Roe "rejected his advance" when he tried to kiss her, though she called him for help when she became "very intoxicated."
The alleged incident took place Feb. 23 after a party held by Doe's fraternity. Witnesses noted that Doe was intoxicated, but Roe had arrived later and was "sober when she arrived and at all points during the alleged events."
Roe surprised Doe by kissing him twice at the party, even though she had rejected his kiss the previous month. They fondled each other over their clothing in a fraternity member's bedroom, then "held hands" as they walked to Doe's dorm room, according to the lawsuit.
Doe "reciprocated" Roe's initiated sexual activity several times in his bedroom, asking for her consent at each step. By contrast, Roe never asked for Doe's consent when she initiated oral sex and later genital contact with him. The "mutual gyrations" led to brief vaginal penetrations.
MORE: He blacked out. She sexually assaulted him. Amherst punished him.
At some point Roe stopped the encounter, left the dorm room, and stayed the night at a friend's place. She had a rape kit taken at a hospital the following day.
Roe filed a complaint with the Office of Institutional Equity four days later, claiming that Doe "had sex with her without her consent" that night.
The lawsuit claims there are several inconsistencies with Roe's claims, including that she gave a different story to investigators than she had texted a friend the day after the encounter.
She also made physically impossible claims about Doe both pinning her down and manipulating her clothing and his genitals. This would have required Doe to have "four hands."
Investigators did not conduct "thorough independent credibility analyses of Roe's witnesses," including whether any had a "motive to lie" on her behalf, the suit claims. Roe's texts with one witness – making clear that her hand was not restrained by Doe as she later claimed – undermine the investigators' findings that each of Roe's witnesses "independently corroborated" her account.
Lawsuit: Michigan State pun… by on Scribd
No chance to 'confront the evidence' against him
Both the lawsuit and the Lansing State Journal note that MSU is under pressure to more aggressively prosecute sexual assault.
Investigations by the U.S. Department of Education's Office for Civil Rights in 2015 concluded that the university didn't investigate two reports "in a timely manner" and that its "policy deficiencies may have contributed to a hostile environment" for both students and employees.
It's under heavy scrutiny for its former employee Nassar, who was found guilty of decades-long sexual abuse. Former President Lou Anna Simon resigned in 2018 due to scrutiny over how she handled the scandal, and the university agreed to a $500 million settlement with more than 300 women and girls who accused Nassar, The New York Times reported.
These factors led MSU to "launch a campaign" that would go "above and beyond" the Obama administration's campus sexual misconduct requirements, Doe alleges: He was a "casualty of this campaign." An appeal Doe filed on July 30 was denied the following day, according to WILX.
Because MSU used a single-investigator procedure where one person serves as "prosecutor, investigator, judge and jury," the university judged Doe guilty "without any checks and balances on sexual bias," according to the lawsuit.
Alluding to recent changes at colleges that have also been hit with due process lawsuits by accused male students, the suit says the model used by MSU differs from other schools that allow "a live hearing" in front of a panel and the opportunity to "confront the evidence" and cross-examine accusers.
The Department of Education's proposed Title IX regulation, now under public comment, would give students more due process protections. This includes a prohibition of the single-investigator model and a presumption of innocence throughout the grievance process.
Not only did the university suspend Doe for two years, but he's banned from joining any fraternities if he returned. The lawsuit says the Title IX proceeding prevented Doe from staying on track to graduate in 2020. He's instead taking courses at a community college.
Doe will have troubles getting into a future undergraduate or graduate university due to the investigation leaving a notation on his transcript, he claims. The lawsuit seeks economic compensation for damages to physical, emotional, and psychological well-being, as well as Doe's reputation, future earnings and career prospects.
MORE: UMich ordered to allow cross-examination in Title IX proceedings
IMAGE: PBS Newshour/YouTube
Like The College Fix on Facebook / Follow us on Twitter