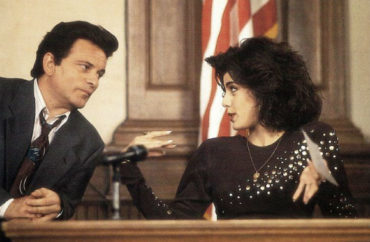 Plausible anti-male bias, too
If college students and administrators want to know why cross-examination is essential in Title IX proceedings, they need only watch My Cousin Vinny.
For the second time in less than a year, the 6th U.S. Circuit Court of Appeals ordered public universities in its jurisdiction to give students the right to cross-examine their accusers in sexual-misconduct proceedings when "credibility is at issue."
The majority opinion by Judge Amul Thapar appears to ban a common form of Title IX proceeding: a lone investigator who interviews parties and witnesses separately and concludes whether a violation occurred, with no hearing.
Thapar cited the Joe Pesci courtroom comedy, as well as the Jack Nicholson legal drama A Few Good Men, to explain why cross-examination is "the greatest legal engine ever invented" for uncovering the truth.
"Even popular culture recognizes the importance of cross-examination," Thapar wrote in a footnote: My Cousin Vinny in particular showed that "cross-examination can both undermine and establish the credibility of witnesses."
The 6th Circuit's Friday ruling against the University of Michigan was even worse for the taxpayer-funded university than last month's oral argument suggested it would be.
The majority allowed both due-process and gender-discrimination claims by "John Doe" to move forward.
Doe made allegations that "plausibly suggest the university acted with bias based on his sex" to avoid punishment by the Department of Education and quell "negative media reports" about its treatment of women who claim they were sexually assaulted, Thapar wrote.
MORE: UMich's terrible, horrible, no good, very bad day at the 6th Circuit
'We reiterate' what we said a year ago
Appointed by President Trump and named on his shortlist of potential Supreme Court nominees, Thapar drew notice in Title IX circles for his sharp questioning of a university lawyer in oral argument last year.
Referring to a Title IX hearing chair's alleged remark that the panel must consider the "future of 1000 girls" before deciding the case, Thapar said he and his colleagues "would lose our minds" if the same had been said of a black defendant and 1,000 whites on campus.
In the University of Michigan case, the 6th Circuit reversed a lower court that had thrown out both Title IX and due-process claims by Doe. It remanded the case to the lower court, though a member of the three-judge panel dissented from the reinstatement of the Title IX claim and the extent of required cross-examination.
Thapar's opinion reaffirms his appeal court's requirement of cross-examination in credibility-based campus disciplinary proceedings from a 2017 ruling against the University of Cincinnati.
MORE: Thapar grills university lawyer over '1000 girls' remark
He said the 6th Circuit had "suggested" this very finding even earlier, in a 2005 case known as Flaim:
We reiterate that … if a public university has to choose between competing narratives to resolve a case, the university must give the accused student or his agent an opportunity to cross-examine the accuser and adverse witnesses in the presence of a neutral fact-finder.
University of Michigan students Doe and "Jane Roe" met at a party, danced, drank and "eventually had sex," according to Thapar's summary.
Roe filed a sexual misconduct complaint two days later claiming she was "too drunk to consent." Witnesses interviewed by the university investigator seemed to testify based on their gender, Thapar wrote: "Almost all of the male witnesses" backed Doe and "all of the female witnesses" backed Roe.
The investigator concluded there was not enough evidence to hold Doe responsible. When Roe appealed the decision, however, the three-person panel that reviewed the investigator's report "thought the investigator was wrong to conclude that the evidence was in equipoise."
It concluded that "Roe's description of events was 'more credible' than Doe's and Roe's witnesses were more persuasive," and facing expulsion, Doe instead withdrew from the university with fewer than 14 credits left to graduate.
Appeals court orders University of Michigan to allow cross-examination in Title IX by The College Fix on Scribd
Let an 'agent' cross-examine the accuser
The lower court was wrong to conclude that cross-examination was "immaterial" to Doe's case even if credibility was an issue, according to the opinion.
"[O]ur circuit has made two things clear," Thapar wrote: Sanctions as serious as expulsion or suspension require a hearing, and cross-examination is required when "the university's determination turns on the credibility of the accuser."
The university already provides cross-examination in nonsexual misconduct cases as well, so it would face "very little" burden to do it for cases like Doe's, the judge said. In the Cincinnati ruling, the 6th Circuit has also "flatly rejected" UMich's argument that there is "no added benefit to cross-examination" when an accused student can review and scrutinize an accuser's statement of claims.
"Instead, the university must allow for some form of live questioning in front of the fact-finder," and in order to protect the accuser from direct cross-examination by the accused, that questioning can come from "the accused student's agent."
Brooklyn College Prof. KC Johnson, who closely tracks Title IX litigation, tweeted that these findings appear to preclude single-investigator proceedings and require universities to allow some form of active counsel: "No court in the [Title IX] tribunal context has gone this far."
MORE: 6th Circuit requires cross-examination in campus rape cases
CA6: Reasonable for univ not to want acc'd student to personally x-examine his accuser. If so, it can allow his "agent" to do so. No court in the TIX tribunal context has gone this far regarding x-exam. pic.twitter.com/Cqs0W28Ffw

— KC Johnson (@kcjohnson9) September 7, 2018
Thapar's opinion also disputed the university's claim that Doe admitted to sexually assaulting Roe in a police interview. The male student only conceded that he "got it all wrong" on "the order of the sexual acts" – not the question of Roe's intoxication level – when he was presented with Roe's version of events.
The judge noted that the 6th Circuit is bound to accept "all of Doe's factual allegations as true" and draw "all reasonable inferences in his favor" at this stage of litigation, so he has raised a "plausible claim for relief" for due-process violations.
Relevant that UMich 'stood to lose millions in federal aid'
Besides reinforcing the Cincinnati precedent on cross-examination, the appellate court determined that gender bias against Doe was possible, based on the same legal threshold of factual allegations and reasonable inferences.
"The board credited exclusively female testimony (from Roe and her witnesses) and rejected all of the male testimony (from Doe and his witnesses)," Thapar (below) wrote:
In doing so, the board explained that Doe's witnesses lacked credibility because 'many of them were fraternity brothers of Doe.' But the board did not similarly note that several of Roe's witnesses were her sorority sisters, nor did it note that they were female. …

[O]ne plausible explanation is that the Board discredited all males, including Doe, and credited all females, including Roe, because of gender bias.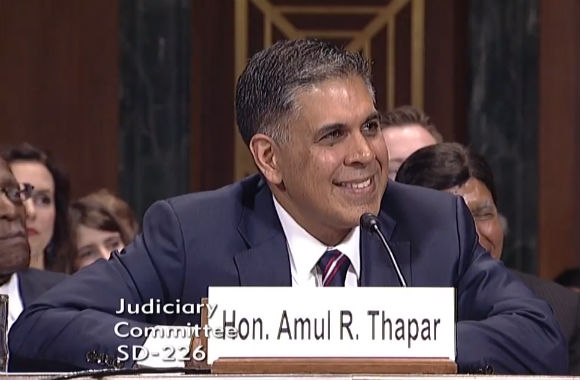 During Doe's proceeding, UMich was still under federal investigation for potential discrimination against women who reported sexual misconduct, the majority opinion notes:
This public attention and the ongoing investigation put pressure on the university to prove that it took complaints of sexual misconduct seriously. The university stood to lose millions in federal aid if the Department [of Education] found it non-compliant with Title IX. The university also knew that a female student had triggered the federal investigation and that the news media consistently highlighted the university's poor response to female complainants.
Thapar cited other federal courts, both district and appellate, that have combined allegations of "adjudicator bias" with "the external pressure facing the university" to conclude that gender bias may have played a role in the findings against accused male students.
MORE: Thapar is on Trump's Supreme Court shortlist
Judge Ronald Gilman issued a dissent on Doe's Title IX claim, saying the accused student failed to show that the university sought to "take actions against him based on gender bias."
"He also fails to identify any practice or policy adopted by the University in response to either external or internal pressure that would reflect bias against males," Gilman wrote. (Judge Julia Gibbons wrote a brief concurrence defending the dissent as "analytical.")
The majority opinion countered that the board's decision to "discredit Doe's fraternity brothers … while not holding Roe's witnesses to the same standard, is basis enough at the motion-to-dismiss stage."
Gilman also disagreed with the majority on the scope of mandatory cross-examination, even as he agreed Doe's due process rights were violated.
Recognizing the weight of Thapar's requirement that the accused student's "agent" be allowed to cross-examine the accuser, Gilman said his colleagues have "traveled a bridge too far":
For example, who is the "representative" that will be allowed to question witnesses on the accused's behalf? Is it an attorney? If so, then this expanded right of cross-examination conflicts with our caselaw making clear that a student has no constitutional right to have an attorney actively participate in his disciplinary hearings, except in very limited circumstances.
"[N]o court has previously held that this is constitutionally required," as opposed to the "circumscribed form" of cross-examination the 6th Circuit has already required at minimum, Gilman wrote.
MORE: Anti-male Title IX case against Columbia will proceed
IMAGE: 20th Century Fox Film Corp./Everett Collection, Senator Ben Sasse/YouTube
Like The College Fix on Facebook / Follow us on Twitter