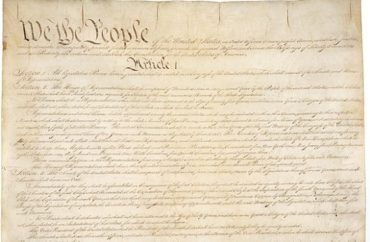 'This is another attempt at MSU pushing their anti-American rhetoric'
As Michigan State University considers renaming its James Madison College, citing the founding father's ownership of slaves, students and alumni are pushing back.
The Keep James Madison Coalition created a petition urging the university and leaders of the public affairs-focused residential college to keep the name, arguing that Madison "should be remembered for the good and just things he said, fought for, and achieved." It has drawn more than 500 signatures since it was created July 20.
Sergei Kelley, president of MSU's Turning Point USA chapter and a coalition member, told The College Fix that he recognizes Madison had his own failings, but he also believes the father of the Constitution (original copy, above) was a major figure working toward liberty.
Renaming the college "would be another loss towards the radical left," he warned: "There can be no compromise or giving in on this name change."
Psychology student Emma Crabtree told The Fix that erasing Madison "would be erroneous as a liberal arts and political college in America." In a text message, she said she supports the petition "because I support American history and believe this is another attempt at MSU pushing their anti-American rhetoric."
A university spokesperson declined to comment beyond referring The Fix to a July 13 statement from President Samuel Stanley on the disputed "suitability" of Madison's name. Stanley cited "an administrative process for any renaming efforts that go beyond one college or unit."
MORE: Student government tries to remove Kelley for his email signature
Nearly 500 signatures! Sign and share to get to 1000.https://t.co/5FoN20ocmd

— Sergei Kelley (@SergeiKelley) July 25, 2020
Renaming considered to combat 'perpetuation of whiteness'
The public affairs college is renowned for producing intellectuals of upstanding political and academic rigor, alum Noah Sadlier told The Fix via text. He worries that switching its name could be detrimental to the careers of future graduates.
"The James Madison College is a name brand for hiring managers in organizations across the political sector," Sadlier said: The name "gets students a foot in the door." The college brags about 97 percent "placement" of its graduates in "careers or graduate school."
College leaders see the namesake as a potential impediment to its work of "advancing racial equity," however. In a July 9 letter, they thanked alumni, students and supporters for "your letters and efforts to hold James Madison College accountable" in this work.
"We recognize that the academy has been riven by policies and practices that disadvantage People of Color," said the statement, signed by interim Dean Linda Racioppi, Assistant Dean Jeff Judge and Amber Benton, director of diversity programming and student engagement. The college is working to "combat systemic racism and the perpetuation of whiteness," they said.
Not only is the college implementing annual diversity, equity and inclusion training for all students and employees and reorienting the curriculum around antiracism principles, but it will "engage in reconsideration" of the college's name after summer break.
If students, staff, faculty and alumni "should support a name change, we would then proceed through the University governance process," the leaders wrote.
MORE: MSU considers removing Madison as college namesake
Rewards critics for trying to 'ban anything they deem offensive'
The concerns over the founding namesake of the 53-year-old college have to do with Madison's own conflicting stances on the racial issues of his day. While he frowned upon the ideal of racial inferiority, the fourth president of the United States was himself a slaveholder.
Kelley, the coalition member, told The Fix that the renaming option is "unsettling" because it ignores that the president "did more good in his life to help build America and the promise of freedom to all."
Political science student Sam Larey, Kelley's predecessor in the Turning Point chapter, told The Fix the potential name change would reward advocates of "cancel culture" and let them "ban anything they deem offensive and not inclusive."
As for what steps the national Turning Point organization is taking to thwart cancel culture against other campus namesakes and monuments, Kelley told The Fix he has not "personally" heard from the higher-ups.
While he knows "they don't support name-changes or removal of prominent American figures," Kelley has not received "directions on how to act against these campaigns locally" from the national TPUSA.
He has been in touch with other chapters, however, sharing the coalition's efforts to preserve Madison in the college.
MORE: MSU black faculty outraged at hiring of white woman as provost
IMAGES: Public domain, Keep James Madison Coalition
Like The College Fix on Facebook / Follow us on Twitter