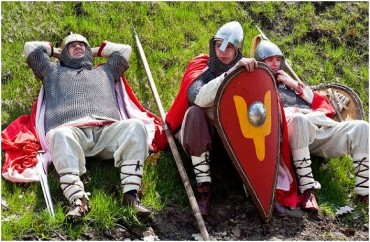 PhD candidate at the University of Leeds (UK) and video game lecturer Victoria Cooper complains that video games are commandeering the Middle Ages — that "medieval imagery and history are often hijacked by far-right political groups and nationalist organisations to legitimise their historical narratives."
While Cooper contends that games "don't inspire a specific kind of nationalism with another country per se," they somehow create their "own space" … which has its "own nationalistic quality where real heritage is superimposed upon a fictional world."
Uh huh.
Cooper notes that the medieval world is often exploited by right wing groups, such as the British National Party (BNP). They used the symbol of Excalibur to promote "Englishness", since, according to legend, Excalibur is the sword that confers the rightful kingship of England. There is even an online shop profiting from this perceived sense of English nationalism that declares, "Excalibur: the number 1 patriotic goods store". However, it appears that the BNP is no longer affiliated with the shop and Excalibur has taken great pains to extricate itself from the association by posting a large disclaimer on their front page stating, "Excalibur has no affiliation or ties to any political party. All merchandise sold on Excalibur belongs to Excalibur and any profits made from such merchandise stays with Excalibur."
Cooper adds that groups like BNP "often attempt to tie a medieval past to their nationalism" with sayings on t-shirts like "White and Proud" and "Anglo Saxon."
Further, she argues "The Middle Ages is a space where white supremacy is legitimised. The maintenance of white privilege," and that "the gamer community use 'historical facts' to legitimise this kind of literacy."
"[M]edievally-themed video games are a space where whiteness can be anchored, in a 'happy history' where a world is free of multiculturalism and white guilt," she says.
Like The College Fix on Facebook / Follow us on Twitter
IMAGE: Sergii/Flickr