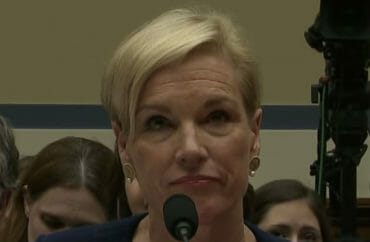 Technicality or policy violation?
Planned Parenthood's campus affiliate blocked pro-life students from attending an event with President Cecile Richards at Pennsylvania State University last week.
That would ordinarily violate the policies of the public university. But Planned Parenthood Generation Action found a way around it.
A field organizer for Planned Parenthood Keystone, the regional abortion provider, told The College Fix that because it "paid for the space" at the Nittany Lion Inn, it "reserves the right to keep probable disruptors out."
A national pro-life student organization isn't buying it, accusing PPGA of violating Penn State policy by "blacklisting" members of the campus pro-life group.
Richards is stepping down this year from the organization she has led for 12 years. If pro-life students had been able to hear her speech, their only disruption would have been pointed questions for the longtime abortion-rights leader, according to one club leader.
No disclosure of abortion provider's role
The Facebook page for Penn State's PPGA chapter shows that it created the Facebook listing for the Richards event on Feb. 9.
Billed as a panel discussion on "the importance of viewing the struggle for full reproductive healthcare for all as part of a larger fight for justice and healthcare for all people," the Feb. 22 event also featured university faculty and "community members."
At some point after PPGA created the listing, PP Keystone was added as a host. The abortion provider serves the eastern half of the state except for the Philadelphia metropolitan area.
PP Keystone's Facebook page makes no mention of the campus event, much less that it played a role in it. The abortion provider did repeatedly promote its own Feb. 22 lunch and dessert reception with Richards right up to the day before, however.
MORE: Surprising sponsors for 'racist' Planned Parenthood event
The secretary of Penn State Students for Life, Sarah Nahrgang, told The Fix in an email that her group did not learn until after the late afternoon event that "funding and logistics was handled by" PP Keystone.
The location of the Richards campus event was not disclosed publicly, Nahrgang wrote in an opinion piece for The State Patriot, a "right-wing" campus publication, after club members were turned away.
Students were required to give their name, email address, phone number and zip code when registering online. Those who were approved to attend were given the location the night before, she said.
A club leader received a text message the morning of the event saying she had been "removed" from the list because of her leadership role in Students for Life. A club member received a similar message. Nahrgang wrote that she was turned away at the door after showing her ID.
The laborious RSVP process seemed intended to "screen pro-life attendees," Nahrgang told The Fix.
"The officer names are on our Facebook page, but the member names are not," she said. "One member was in line with an identified officer, so she was asked if she was in SFL too." In total, three officers and two club members were turned away.
One club member managed to get into the event "undetected" and reported back on the discussion, which included a "constant refrain of anti-American race-baiting" and "peculiar fixation on illegal aliens," Nahrgang wrote in The State Patriot. (The Daily Collegian reported that the discussion included how "intersectionality" affects healthcare, how "rural women" suffer from a "small town environment where 'everybody knows everybody,"" and how immigrants suffer from "racism and xenophobia in the healthcare industry.")
'No history of being disruptive'
Students for Life "has no history of being disruptive" during campus events, Nahrgang continued: "The goal was simply to hear Richards speak and possibly ask some questions if they opened the floor." Nahrgang reprinted the intended questions.
Club members returned to the venue for Richards' evening dessert reception and handed out cards noting that Planned Parenthood only performs a third of abortions, so it's not crucial for abortion access.
The cards also said "federally qualified health centers," which do not perform abortions, "can do more with your money."
MORE: Georgetown clamps down on pro-life activists at Richards speech
Student Robert Badman also wrote about his experience getting kicked out of the event in The State Patriot.
Though not a member of Students for Life, Badman said he came to the event at the invitation of his friends in the club. He was wearing a t-shirt with the word "Catholic" on it when an event staffer asked him to unzip his jacket.
Another staffer approached Badman after he sat down and asked him if he "was with" Students for Life, and he admitted he came with the club, he wrote. Organizers ordered him to leave despite his protestations that he just wanted to "listen to Cecile as an independent attendee."
'At least unethical' if not worse
Because an outside group paid for the venue, Nahrgang told The Fix, the university claims it "does not have oversight of the event, regardless of the fact that all students were publicly invited to the campus event and pro-life students were restricted from entering based solely on their political beliefs."
She claims PP Keystone's actions were "at least unethical, if not a violation of the civil right's [sic] code."
Christine O'Donovan-Zavada, the field organizer for PP Keystone, told The Fix in a Facebook message that she "handled the RSVP process" for the event.
She cited past "serious security concerns due to near constant threats" as the reason for the strict vetting process behind the attendance of the event. O'Donovan-Zavada did not respond to a followup request to explain how she decided which students to let in and provide specifics about security threats.
MORE: Watch student nonchalantly defend killing 2-year-olds
The administration confirmed in an email to The Fix that PP Keystone was the event host, even though it was a campus group that did all the publicity for it:
Third-party organizations routinely rent space for private events, such as conferences and weddings, at the Nittany Lion Inn. Admission to private events is managed by event organizers … all events hosted by student organizations are subject to Penn State's Policies and Rules for Student Organizations.
The university's interpretation of its policy would seem to let any student group restrict attendance at on-campus events as long as an outside organization pays for the venue.
Students for Life of America took a much more strident attitude toward the university's interpretation of its policy than did its Penn State chapter.
In a statement provided to The Fix, President Kristan Hawkins said that both the university and Planned Parenthood "clearly violated Penn State's own policies in blacklisting members of Penn State's Students for Life group from the event."
She contrasted Planned Parenthood's lockdown mentality with her own speech the same week at the University of Detroit-Mercy, which included "a room full of Planned Parenthood protestors and even a Planned Parenthood staff member."
Hawkins said she "welcomed them" and "answered all of the questions posed at me," unlike at the Richards event:
The decision by Planned Parenthood reflects their organization-wide fear of exposing Cecile Richards to any sort of criticism of their horrific policies, including their role in the trafficking of fetal body parts and the frequent misuse of taxpayer funds.
MORE: Georgetown won't deny it invests in abortion providers
IMAGES: CNN/YouTube, Planned Parenthood Generation Action at PSU/Facebook, Planned Parenthood Keystone/Facebook, Students for Life at PSU
Like The College Fix on Facebook / Follow us on Twitter