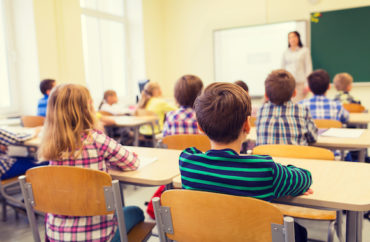 The city of Milwaukee, Wisconsin, abruptly changed its mind on Friday and said no school, public or private, will be permitted to hold in-person instruction in the fall.
According to WISN, the city's plan originally allowed for the reopening of schools under its (COVID-19) phase 4, but that plan recently was modified.
The Milwaukee Health Department made it official with a Friday announcement.
"Public and private K-12 schools shall remain closed for in-person pupil instruction and extracurricular activities until further notice," the department said. "Schools may continue to facilitate distance or virtual learning. School buildings and property may continue to be used for Essential Government Functions and food distribution."
Ironically, the change in course comes as the Milwaukee Public Schools announced they would begin the school year online.
School Choice Wisconsin President Jim Bender doesn't think this was just a coincidence: "The health department did it very quietly, didn't tell anybody and certainly hasn't offered any rationale on why they changed the metrics to do this.
"If the private schools were allowed to open and the district decided to stay shut, I think you would see another exodus of families from MPS to private schools and the voucher program and the district doesn't want that to happen."
The Milwaukee Montessori School said (via Alex Berenson) the city's decision "came as a shock and surprise" to private and choice schools. It pointed out that schools right outside the city limits will be allowed to reopen, as will Milwaukee "beaches, hotels, athletic facilities, stores, spas, playgrounds, libraries, [and] daycare centers."
Milwaukee Alderman Michael Murphy echoed the MMS's sentiments.
"I think inconsistencies can be explained, but they have to explain them," Murphy said. "That's where people are rightfully confused. What is the rationale that resulted in these changes and why do you have consistent policy for day cares and bars and restaurants versus schools?"
The Milwaukee Montessori School said "efforts are underway" to reverse Milwaukee's decision but added it needs people to make their voices heard: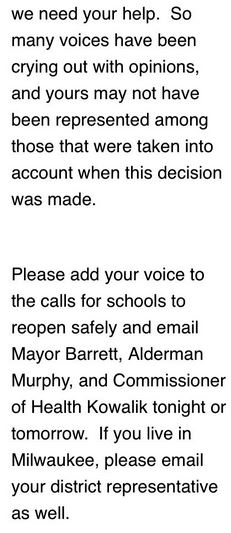 Read the WISN article and full Alex Berenson Twitter thread.
MORE: LA County schools will require students to wear face masks as part of reopening
MORE: No, Betsy DeVos did not say children will die if schools reopen*
IMAGE: Syda Productions / Shutterstock.com, Twitter screencap
Like The College Fix on Facebook / Follow us on Twitter