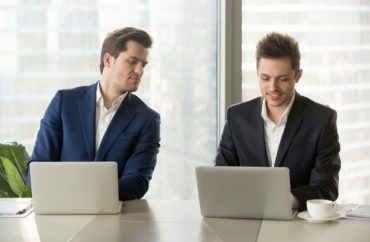 'If this trio were students, they would have been brought up on plagiarism charges'
The week of Thanksgiving, a judge ruled that a jury will hear allegations against Johnson & Wales University for finding a student guilty of sexual assault without letting him question either his accuser or her boyfriend.
One of the issues ripe for the consideration of jurors: whether the members of the Title IX tribunal exhibited anything close to independent thought in reviewing the evidence against "John Doe" and the potential ulterior motives of "Mary Smith" and her boyfriend, who first reported she had been assaulted.
Assistant Director of Clubs Elizabeth Zmarlicki, Assistant Director of Residential Communities Caitlin Codding, and Culinary Associate Instructor Tim Brown "offered identical sentiments and, often, language" in the sworn affidavits they signed to justify their findings against John, as noted by Brooklyn College Prof. KC Johnson.
Johnson chronicles Title IX litigation and attended oral arguments before two judges in the case. He notes two of the three tribunal members were new to the process and all appear to be at-will employees, making them more "susceptible to feeling pressured by the school" to reach a predetermined result.
They all justified their votes against John with the same language, "suggesting that they either collaborated on the documents after the fact or exhibited a degree of groupthink that raises questions about the fairness of the proceedings," which were neither recorded nor transcribed, Johnson writes:
According to Zmarlicki, her training led her to approach the case "without any predisposition or bias," allowing her to reach a decision with "an open mind." Codding said that she too approached the case "without any predisposition or bias," allowing her to reach a decision with "an open mind." What about Brown? [His job is to "shape the pastry chefs of tomorrow."] He affirmed that he approached the case "without any predisposition or bias," allowing him to reach a decision with "an open mind." The three JWU employees did not explain how they came up with the exact same formulation to describe how they approached to the case.
Near identical affidavits filed by Title IX adjudicators in kangaroo-court lawsuit by The College Fix on Scribd
They all said they asked "probative" questions of John and Mary but didn't describe any of the questions. And they all "considered carefully the fact that John Doe and Mary Smith admitted that they had engaged in consensual sexual intercourse before the two evenings at issue" – yes, all three used the same words.
Only after a "careful assessment" did the three all independently conclude John was guilty because he was "consistently vague," while Mary – his consensual sexual partner for most of their encounters – provided "specific details." Other oddly identical formulations by Zmarlicki, Codding and Brown: engaging in "lengthy" deliberation as a tribunal without remembering the "precise duration" of their talks, despite supposedly having the same reactions to the evidence.
Prof. Johnson observes: "If this trio were JWU students, they would have been brought up on plagiarism charges." None explained why they weren't troubled that Mary's boyfriend, the "complaining witness," refused to testify, or that university officials refused to let them hear testimony from John's roommates.
It's amazing that John was able to make it to trial based on evidence entirely provided by the university, Johnson writes:
A legal strategy that presents their own decisionmakers as either mindless automatons or so uncertain of the facts that they needed to have their recollections written by someone else seems like a bad look for any university.
Criminal defense lawyer Scott Greenfield further elaborates on the affidavits, the typicality of the proceeding against John and the competence of university counsel: "Couldn't the lawyers for the J&W even be bothered to come up with synonyms?"
He says it's an "insult [to] marsupials" to describe these panels as kangaroo courts:
Glossing over the conclusions with the sort of words of putative fairness as reflected in the triple threat of affidavits, while ignoring the flagrantly improper motives for the complaint[,] is not merely normal for these cases, but vehemently defended by colleges as reflecting their support for the "survivors," who deserve to be believed when the witnesses that can prove the falsity of the accusations aren't allowed to give testimony.
Read the posts by Johnson and Greenfield.
MORE: Judge approves jury trial against J&W for alleged Title IX kangaroo court
IMAGE: fizkes/Shutterstock
Like The College Fix on Facebook / Follow us on Twitter