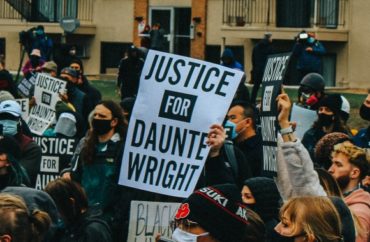 UPDATED
University of Northwestern-St. Paul resident director responded within a day of controversial shooting
Less than 24 hours after a criminal suspect died while fleeing police in his car, a resident director at University of Northwestern-St. Paul sent out an email making a judgement on the appropriateness of the police officer's actions.
"I encourage you to take time today to process your own feelings, as well as pray for the Wright family and community," Michael Joseph said. Joseph is a resident director at the Christian university.
"Regardless of your personal opinions related to the conversation of police reform, loss of life cannot be something we shrug our shoulders at," Joseph said in an email sent to students on Monday, April 12.*
It went out before 10 a.m. to an estimated 300 students. The email's subject line said there was "potentially triggering-police violence."
Daunte Wright died April 11 after a Brooklyn Center police officer shot him while he was trying to flee an arrest for an outstanding warrant.
Joseph dismissed those who might say that Wright "deserved it." Joseph likely did not see the footage since police released it after the email had been sent.
"No, they didn't. No, Daunte didn't," the resident director said in his email.
The email was sent out before a number of facts about the case emerged. While reporting on the Sunday, April 11, incident included information about Wright's outstanding warrant, video from the encounter had not been released until Monday afternoon.
Joseph did not respond to an email from The College Fix on Monday that asked what video and statements he had reviewed prior to sending the email, if it was the official opinion of Residence Life or the university, if anyone asked him to send out the email, and how he knew that the shooting was not justified.
WARNING GRAPHIC

Brooklyn Center, MN police release bodycam footage of the moments leading to the fatal shooting of 20-year-old Daunte Wright pic.twitter.com/Ig9CKQaBN0

— Daily Caller (@DailyCaller) April 12, 2021
The video, released during a Monday, April 12 press conference, showed a black police officer arresting Wright and telling him to stop squirming while under arrest. A female police officer shouts "taser, taser" and shot Wright while he began to drive away before fatally crashing.
The officer can be heard on the video swearing because she used her firearm instead of her taser. The officer, Kim Potter, has since resigned. None of this information was publicly available before Joseph sent his email to the students.
Greg Johnson, the associate vice president of marketing and communications, also did not respond to a request for comment from The Fix on Monday morning.
The Fix asked Johnson if he knew about the resident director's statement and if the university agreed with the statement and had any further comment on the Wright situation.
The university waited only a day longer before releasing its statement, though it occurred after a press conference with city officials that included the release of the arrest footage.
"What happened on Sunday afternoon in Brooklyn Center to Mr. Daunte Wright was tragic, shocking, disturbing, and destructive," Alan Cureton, the university president, said in an April 13 email sent to the university community. "The result was heart-breaking."
He said:
We witnessed another Black American male losing his life in a confrontation with law enforcement during a traffic stop. He should have never lost his life, as the Brooklyn Center police chief acknowledged on Monday. But, he did. What happened was wrong. Justice needs to prevail.
Meanwhile, protests continued in Brooklyn Center.
Chants such as "No cops, no KKK, no racist USA." and "These killer cops have got to go," could be hear when The Fix attended a rally on Monday.
Protestors would say his name and yell "Whose streets? Our streets!" while others stood screaming profanities at the police officers, sheriffs, and National Guard surrounding the Brooklyn Center Police Department.
MORE: Duke launches investigation after George Floyd toxicology report posted 
Editor's note: The author was assigned this article previous to their release of an open letter that they co-authored. The article has no affiliation to the letter.
IMAGES: Hayley Tschetter
Like The College Fix on Facebook / Follow us on Twitter