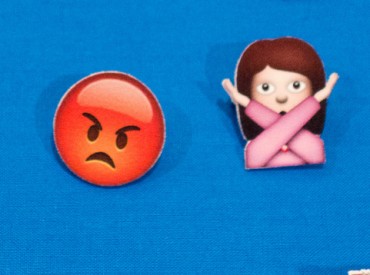 While conceding that it's nice that Apple's coming set of multicultural emojis will reflect their ethnicity, some minority students are already saying the new emojis will be offensive or still leave them feeling unrepresented digitally.
The University of Georgia's Red & Black reports on its multicultural student groups and members:
[Hispanic lesbian women's studies major Maria] Matta said some of the emojis could create stereotypes, such as the flamenco dancer in a red dress that has been an Apple emoji staple and will now have skin color options.

"I don't know if she's supposed to be Latina, but she's in the dancing pose and I'm like 'What is she supposed to be?'" Matta said. "She definitely creates stereotypes. Just because you're Latina, you're a dancer? That's not how that works. I know plenty of Latinas that don't know how to dance."
The new emojis are still showing too much pixel skin, according to this student:
Yusra Aurangzeb, a senior psychology and cognitive science major from Pakistan and president of the Muslim Students Association, said she wishes often that there was a woman in a hijab, a headscarf that Muslim women use to cover their hair, as well as the turban-wearing man.

"I would love it if they had a hijab," she said of the need for representation of female figures.
One of her fellow members thinks it's cool, though:
Jasim Mohammed, a sophomore biology and psychology major from India and treasurer of the UGA Muslim Students Association, said he likes the Arabic-looking emoji with a turban, and he said he hasn't thought about the way it could perpetuate stereotypes.

"I use the turban guy all the time, and I don't think it's racist. But maybe I'm desensitized," Mohammed said. "I don't think it's important per se that there be emojis that include all races, but it's nice to have more options."
Like The College Fix on Facebook / Follow us on Twitter
IMAGE: Scott Beale/Flickr