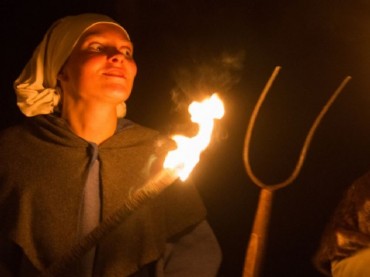 The Twitter account Frat Scenery posts images of "Fraternity and Sorority Houses across the country" submitted by users. A posting Sunday night showed the Phi Kappa Theta house near the University of Missouri-Columbia.
ΦΚΘ (@PhiKaps_Mizzou) | University of Missouri pic.twitter.com/PiDkn9nf2N

— Frat Scenery (@FratScenery) July 13, 2015
Yes, that's a Confederate flag, and Mizzou Chancellor R. Bowen Loftin is freaking out.
The Maneater reports the photo is not at all recent:
The photograph was likely taken in the days surrounding a September 8, 2012 football game between the University of Georgia and MU. Three of the five men in the photo are wearing Bulldogs apparel and a University of Georgia flag flies alongside the Confederate Navy Jack.
No matter – Loftin released an over-the-top statement Monday in response to the photo, essentially accusing an inanimate object of violating school policy:
Especially considering recent events in South Carolina concerning the Confederate flag, this photo may be considered offensive and possibly even threatening to some of our community members. We do not believe any of the individuals in the photo are past or current MU students; however, we will be working to identify those in the photo.

MU officials do not condone any activities that could threaten the safety of our community.
Leave aside Loftin's unique logic in claiming that a three-year-old photo of a Confederate flag near campus that no one knew about until Sunday night could now threaten campus "safety."
If any of these are Mizzou students, Loftin's pledge to seek out their identities may amount to an ex post facto policy change. At the very least, these students would be subject to official investigation and a black mark on their reputations that they couldn't have foreseen in 2012. (University of Oklahoma President David Boren looks like a civil libertarian compared with Loftin.)
Another way to read Loftin's statement, of course, is that it's just PR blather intended to make the school look responsive to a situation with no real significance but a high outrage quotient.
Frat Scenery, for what it's worth, told The Maneater the image was probably scheduled to run several months ago and its Sunday posting was just "bad timing."
Like The College Fix on Facebook / Follow us on Twitter
IMAGE: Hans Splinter/Flickr
Like The College Fix on Facebook / Follow us on Twitter