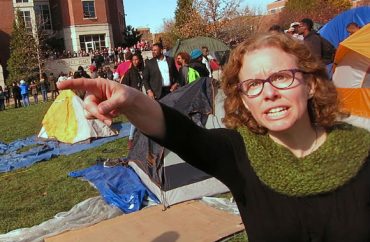 The public university that gave us Melissa "Muscle" Click – and announced open season on student journalists that try to cover social justice warriors – continues to suffer fallout from the November 2015 melee.
The University of Missouri is shutting down three dorms next year because of low freshman enrollment, The Maneater reports.
Technically they are being taken "offline" to see if enrollment bumps back up, and "most or all" staff will keep their jobs, Residential Life Director Frankie Minor said in an email obtained by the paper:
"Historically every year between now and August, various situations occur that result in position openings, e.g. normal attrition and voluntary staff choices, as well as unplanned academic or personal challenges," the email said. "If necessary, we will offer alternative employment opportunities at comparable compensation to the remaining staff."
This is on top of four other dorms that were already scheduled to go "offline" because of plummeting enrollment. Two of them – no joke – are named "Respect" and "Excellence."
At the last announcement of dorm closure in December, Minor told residence hall leaders that nearly a quarter fewer freshmen than anticipated "signed housing contracts," The Maneater said.
Minor said in the most recent email the targeted dorms had "higher-than-average utility costs" and their closure will be less disruptive for returning students. Mizzou is also canceling eight "Freshman Interest Groups due to low anticipated demand."
Like The College Fix on Facebook / Follow us on Twitter
IMAGE: Mark Schierbecker/Wikimedia Commons