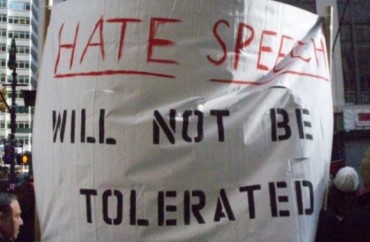 Campus that defended walking on American flag decried bathroom stall scribbling as 'hate speech'
Scrawling on a bathroom stall critical of Black Lives Matter at Valdosta State University has been condemned as an act of racist vandalism and is under investigation by campus authorities.
The writing stated: "#Mizzou students are crybabies," on one line, #whitelivesmatter" underneath, and a poorly drawn swastika.
The graffiti has also led to the creation of a diversity task force, the Valdosta Daily Times reports.
Nearly 40 percent of the Georgia-based Valdosta State University's student population is black. The school made national headlines last spring after a video of black protestors on campus walking on an American flag to decry racism went viral.
At the time, then-President William McKinney issued a statement supporting free speech: "The American flag represents everything that is best about our country. As the Supreme Court has held, one of those things is the right to free speech, which includes the right to disrespect even the symbol of our country. While I firmly disagree with the actions of the protesters, I understand their right to protest."
As for this bathroom graffiti, Dr. Cecil Staton, interim president of VSU, said in an email to The College Fix that "the incident of hate speech discovered yesterday is a very serious matter, and we have two investigations underway into this incident."
"Until those are concluded, it is inappropriate for me to comment. The Blazer community condemns hate speech in all its forms, and we are committed to creating the diverse and tolerant learning community envisioned in the Blazer Creed," he added.
The university's "Blazer Creed" outlines VSU's stance on condemning "hate speech in all its forms."
"The university is equally dedicated to the core values of community, including to a commitment practice civility, integrity, and citizenship," the creed reads, "As members of this community, and proud Blazers, we will strive to uphold these core values for the advancement of the university."
Like The College Fix on Facebook / Follow us on Twitter
MAIN IMAGE: Ashley Marinaccio/Flickr (Inside, Twitter screenshot)