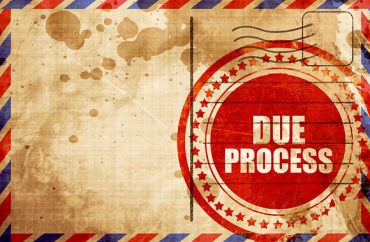 Colleges and universities would have to tell their students in writing that they are presumed innocent when accused of sexual misconduct, under a sweeping model bill offered by a due-process advocacy group.
Dubbed the Campus Equality, Fairness, and Transparency Act (CEFTA), the bill would largely overturn the regulatory apparatus that has governed campus sexual-misconduct proceedings since the Department of Education's 2011 "Dear Colleague" letter, now the subject of litigation.
Though CEFTA is written for introduction in Congress, its author – Stop Abusive and Violent Environments – wrote that it could be modified for the state level as well.
The bill would codify the Supreme Court's 17-year-old definition of "sexual harassment" (Davis v. Monroe), which is much narrower than that mandated by a "blueprint" document issued by Education and the Department of Justice in 2013.
MORE: Accused student sues the feds to end 'unlawful' investigations
It would require schools to give both accusing and accused students their own "confidential advisor" for the adjudication process.
That person would walk the "complainant" (accuser) through "remediation options" such as schedule reassignment and informal resolution processes, but also
explain that the institutional disciplinary proceedings have limited jurisdiction, scope, and available sanctions, and should not be considered a substitute for the criminal justice process, and that the failure to allow the collection and preservation of evidence by law enforcement may limit the complainant's future options.
The advisor for the accused student would walk that person through
procedures for obtaining investigatory reports and evidence that may be used in the disciplinary proceeding, potential sanctions, possible interim measures, and options for obtaining counseling or academic assistance and legal advice.
MORE: Lawyer for me, not for thee in campus rape investigation
In perhaps the biggest change from today's average campus investigation, the model bill would put investigators under strict rules for how they handle cases:
"make reasonable efforts to contact all potential witnesses, not just those recommended by the complainant or accused student"

"seek to gather and disclose both inculpatory [confirming] and exculpatory [exonerating] evidence"

"thoroughly document and/or videotape all communications with potential witnesses, evidence collected, and interviews conducted, which shall be made available to the complainant and accused prior to any institutional disciplinary hearing"

"not serve as victim advocate, prosecutor, adjudicator, or appellate adjudicator for the same case"
The bill would put a strict firewall between different roles in an investigation. That means the same person could not serve as, say, victim advocate and investigator, or adjudicator and "appellate adjudicator," in the same case.
MORE: New sexual harassment rules alarm free speech advocates
In another major change, students would have the option of hiring lawyers who could actively represent them, and accused students would be told what they are accused of – including the "factual information" about the incident – within 48 hours of an investigation starting.
(A recent lawsuit against Lynn University alleged the school deprived the accused student of a lawyer while his accuser brought a veteran litigator.)
Though it does not mandate a standard of proof – "preponderance of the evidence" has been enforced by the Department of Education since the 2011 letter – the bill said the standard should be "consistent" with local laws.
The evidence standard "shall" also fit with "the severity of the alleged sexual conduct violation and the potential penalties" – suggesting that the threat of expulsion would carry a higher evidence standard, and that expulsion would be off the table in cases where consent was not clearly revoked.
The bill would also order schools to focus on reducing sexual violence "associated with alcohol and drug abuse," by issuing policies that address standards of conduct; penalties for breaking the law and campus rules; health and safety risks of substance abuse; alcohol effects on judgment and risk-taking; and counseling or treatment options for students.
Finally, schools would be required to "make a good faith attempt" to enter into a memorandum of understanding with local law enforcement.
Read the model bill and SAVE's summary.
MORE: Student accused of rape – over his sex partner's protests
Like The College Fix on Facebook / Follow us on Twitter
IMAGE: argus/Shutterstock