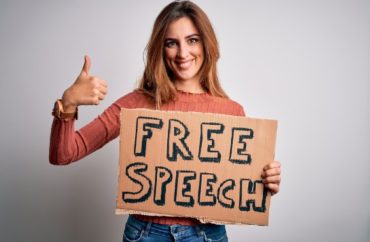 Started with a protest against gun control in 2019
Students at Montclair State University, starting this semester, will be able to share their views and recruit members for their clubs almost everywhere on campus, thanks to a lawsuit from Alliance Defending Freedom.
The conservative legal nonprofit announced the settlement in August, but documents show the group first settled in June 2021.
The settlement, announced on August 4 by the Alliance Defending Freedom, representing MSU's Young Americans for Liberty chapter, effectively removes the university's requirement that students get a permit two weeks in advance to engage in expressive activities and eliminates its Bias Education Response Taskforce.
The two-week permission requirement also effectively creates free-speech zones on campus, by making spontaneous demonstrations impermissible.
The libertarian student group protested in 2019 at the public New Jersey university against a gun-free zone on campus. ADF filed a lawsuit in 2020 and the legal group and school officials reached a settlement this year.
The settlement overhauls student government guidelines that established a class hierarchy system that treated student organizations unequally.
"It's a great example of universities coming around to respect student free speech rights," Michael Ross, an attorney for ADF, told The College Fix during a phone interview. "We wish that we didn't have to litigate it and force a lawsuit to get them to change that, but unfortunately that's the campus climate across the country and also many universities."
"We are encouraged that Montclair came around and did the right thing in this lawsuit. They enacted some large changes," Ross told The Fix. "We're satisfied at this point."
The university told The Fix it will continue to evaluate its policies to ensure it protects free expression. University officials, "will continue evaluating its policies to ensure we are creating a campus environment in which views can be expressed freely and peacefully. This process will be ongoing," spokesperson Andrew Mees told The College Fix via email.
A free-speech nonprofit group also praised the settlement and policy changes.
Hess provided the Fix with an official statement from the university when asked for comments moving forward, which was also given to other outlets: "Montclair State University is committed to fostering an environment where different viewpoints can be expressed freely and peacefully, and where all voices have the opportunity to be heard."
"While MSU did not concede that any of its policies were unlawful or admit to the infringement of the YAL students' expressive rights, the terms of the agreement represent a victory for expressive rights of MSU students," FIRE wrote in a blog post. "FIRE commends ADF and YAL for their victory in the continued fight to preserve students' expressive rights on campus."
MORE: Congressman predicts bipartisan support for free-speech legislation
IMAGE: Krakenimages.com/Shutterstock.com
Like The College Fix on Facebook / Follow us on Twitter