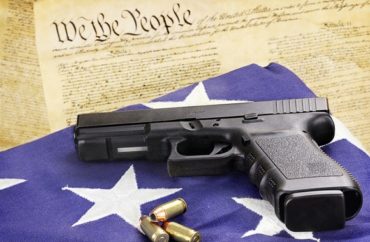 Two weeks' notice is 'appropriate' to prevent disruption, administration says
Students who want to protest gun-free zones at Montclair State University must get permission two weeks ahead of time, no matter how mirthful their protest is.
MSU's Young Americans for Liberty chapter filed a federal lawsuit against the New Jersey public university Thursday, targeting three "sets of policies" as unconstitutional.
The first is the speech permit policy, which prematurely ended YAL's September protest against gun-free zones, according to the suit. Members dressed up in orange prisoner jumpsuits and held up signs that read "every civilian gun is a threat," "disarm law abiding citizens" and "criminals for gun free zones."
Sergeant of Campus Police Kaluba Chipepo told the activists they were violating university policy because they did not obtain permission to speak from MSU officials. They were told to disband voluntarily or their gathering would be "terminated," as "protests cannot continue."
The two-week permission requirement qualifies as a prior restraint on speech, violating the First Amendment, according to the lawsuit. It also challenges MSU's student organization regulations, which give YAL the fewest privileges of any political group on campus, and its bias response team.
Common outdoor areas of MSU are traditional public forums, the suit argues, meaning the university cannot exclude or restrict a student's speech based upon viewpoint. Yet MSU policy requires administrators "to examine the content and viewpoint of students' speech in deciding whether to approve, modify, or reject a students' request to speak."
MORE: Iowa State sued for ban on students promoting political candidates
The "marketplace of ideas" represented by a public university "can't function if officials impose burdensome restraints on speech or if they can selectively enforce those restraints against disfavored groups," Michael Ross, legal counsel for the Alliance Defending Freedom, said in a press release. The public interest law firm is representing the students.
"Free speech shouldn't be infringed. We have the right to say what we have to say," Montclair YAL President Mena Botros, the individual plaintiff, told The College Fix.
The university told The Fix it hadn't been served the complaint but provided a statement from President Susan Cole (left) that said MSU is "absolutely and unequivocally committed to freedom of speech."
Cole cited two principles underlying the university's policy on demonstrations and assemblies. University members have the right to foster discourse and exchange ideas, as well as the right to participate in university activities without being disrupted.
"The University has adopted appropriate procedures to assure that it functions in accordance with those principles, and we have no reason to think we have taken any action in violation of our principles or policies," she concluded.
Put in lower 'class' than left-wing organizations
MSU charges each student mandatory student fees, but student organizations aren't treated equally by default. The student government assigns them a "class" and grants them specific privileges based on it.
Organizations only make their way to Class I designation if they have "an appeal that reaches the general interest of the entire campus community or … that fosters pride and mobilizes awareness of the interests of a large, distinct, and prolific subculture of the campus community, as deemed by the discretion of the chartering process," the suit says, quoting from the regulations.
At the other end of the spectrum, organizations are granted a Class IV or III designation if they meet "the needs of a very specific and unique interest of the campus community" and draw students who "are yet to be specifically represented by a chartered organization." (Class IV is dubbed "entry level.")
At Class I, student organizations receive funding derived from the student fees. At the lowest level, organizations must fundraise but can receive up to $500 in matching dollars from the student government at its discretion.
YAL is assigned to the lowest tier, Class IV, and is the only political organization at that level,  according to the suit. Political organizations in Class III include Animal Activists, the Environmental Club, and YesSheCanCampaign. Justice for Education, a social justice education organization (below), and Femvolution are Class II organizations.
All student organizations need to plead their case to the student government to be re-chartered on a yearly or biennial basis, depending on their class. Because the re-chartering process explicitly considers the organization's viewpoint, speech, popularity and size, MSU is "unconstitutionally discriminating against YAL based on its viewpoint and the content of its speech," the suit argues.
It's also compelling speech by forcing students to pay an activity fee that funds student organizations in a manner that is not viewpoint-neutral, the plaintiffs claim.
MORE: UF drops policy that defunded conservative group to settle suit
Students fear 'reeducation' counseling, mandatory social justice programs
MSU's Bias Education Response Taskforce should be declared unconstitutional because its definition of a "bias incident" includes speech protected by the First Amendment, the suit continues.
The students and YAL are fearful that if they express views that offend some on campus, they will be subject to investigation and punishment by the university. One such concern is that they will be subject to "reeducation" counseling or mandatory social justice programs.
While the suit doesn't give examples of such programs, the "stipulations" section of the code of conduct says: "Students may be required to complete community restitution projects and/or educational assignments."
"Montclair State punishes student organizations that express unpopular views and allows officials to silence any students who express a viewpoint that officials deem offensive or uncomfortable to other students," said Ross, the alliance lawyer.
"Policing peaceful student expression that the university doesn't favor is blatantly unconstitutional and directly opposed to the mission of public universities to encourage and allow the discussion of ideas," he said.
Finally, the suit seeks to have all of the challenged policies overturned because they are unconstitutionally vague.
"Montclair State's policies regulating speech in this fashion are not at all acceptable or constitutional," said Tyson Langhofer, senior counsel at the alliance. "Because today's students will be tomorrow's leaders and voters, universities should promote the First Amendment values that they are supposed to be teaching instead of telling an entire generation that the Constitution doesn't matter."
YAL argues the existence of a bias response team at MSU chills free speech. At the 6th Circuit, this argument found purchase with the circuit court judge, though the ruling was in regards to if Speech First (plaintiff) had standing. https://t.co/X8iDvd6H4e

— Dan Bauman (@danbauman77) January 15, 2020
MORE: UMich permanently shutters bias response team to settle suit
IMAGE: Stephanie Frey/Shutterstock
Like The College Fix on Facebook / Follow us on Twitter