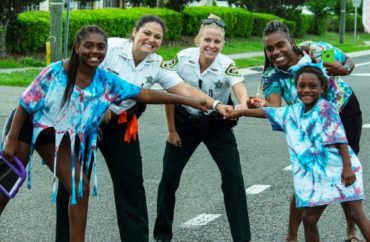 UPDATED
Every 10 to 17 new cops saves one black life
A team of criminologists has found that every 10 to 17 new cops added by a city police department can be expected to save one black person from being murdered.
The researchers looked at 242 cities over a 38-year period and concluded "that each additional police officer hired abates between 0.06 and 0.1 homicides."
"Although the total reduction in homicide is roughly equal across Black and white victims, the decline in homicide is twice as large for Black victims in per capita terms," the team said. Researchers on the project include Professor Benjamin Hansen of the University of Oregon, Emily Weisburst of UCLA and Aaron Chalfin at the University of Pennsylvania.
A draft of the criminology research paper is available here and the paper has been accepted by American Economic Review: Insights for publication soon. It first came out as a working paper in December 2020 and has since been accepted for publication.
"There are some people who say, 'We can invest less in police. They're not doing much to control crime,'" Chalfin said in a November 23 news release published by Penn. "But it's a complex task to figure out what the effects of doing that will actually be."
"When a city increases the size of its police force, you get fewer crimes, fewer homicides, and fewer arrests for serious crimes, but more arrests for less serious crimes," the Ivy League professor said. "[T]he homicides reduced are disproportionately where the victims would have been Black—which is maybe not surprising given that the demographics of homicide victimization skew that way."
The paper also found that increased police presence led to more "quality-of-life crime" arrests — such as liquor violations and loitering.
"The research suggests that money spent on police is effective at reducing crime and violence," Chalfin said. "[W]hen it comes to reducing violence, it's crucial to have a portfolio of strategies."
MORE: USC professor refuses to remove Blue Lives Matter flag
MORE: Thirty-eight percent crime drop around UMinn after increased policing
Editor's note: The article has been updated to clarify that the study first came out in December 2020 as a working paper.
IMAGE: Kerry Lane/Shutterstock.com
Like The College Fix on Facebook / Follow us on Twitter