'We are charging people very good money to teach them to think. I am just trying to deliver.'  
University of Southern California Professor James Moore has come under fire for hanging a Blue Lives Matter flag on his office door, with some students saying he should remove it, calling the imagery "inappropriate" and counterproductive to creating an "inclusive" environment.
Moore hung the flag at the start of the fall semester. A few weeks ago, he said an administrator called him and suggested that perhaps he take the flag down. The professor of engineering and policy replied no, it stays up.
"It's important," Moore said in a telephone interview Tuesday with The College Fix. "Blue lives protect black lives, and black lives are not at risk from the police — they are at risk from crime — and it's blue lives that stand between them and crime."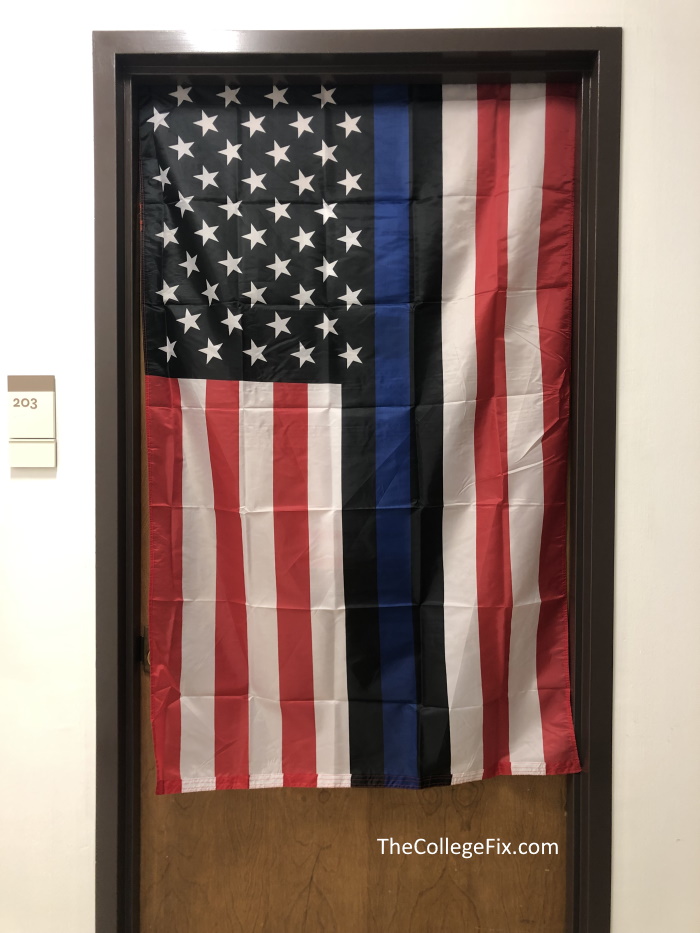 But Moore's public display (pictured) led to an article this week in the Daily Trojan calling the situation a "controversy" and quoting students who say the flag should come down.
"This is an inappropriate and unnecessary symbol to have on an office door where USC is, within the last year or two, trying to have a much broader diversity initiative and to be inclusive, especially in the STEM area," grad student Shai Porat told the Daily Trojan.
Grad student Maricarmen Pachicano told the student newspaper: "I want them to take it down, and I want them to do something about Professor Moore because this is not the first controversial thing he's done."
Moore made headlines in the fall of 2018 when he reminded students in an email that "accusers sometimes lie" in response to a school-wide invitation to an event titled "Coffee and Title IX."
"With Dr. Christine Blasey Ford's testimony happening today, we are personally inspired to reiterate the importance of educating and empowering women and allies alike, and most of all, to BELIEVE SURVIVORS," the invitation had read.
Moore responded by asking students to see the situation from a different perspective.
"If the day comes you are accused of some crime or tort of which you are not guilty, and you find your peers automatically believing your accuser, I expect you find yourself a stronger proponent of due process protections than you are now. Accusers sometimes lie," Moore told students.
For that, students protested and demanded he be fired. At the time, then-Public Policy Dean Jack Knott called Moore's email "extremely inappropriate, hurtful, insensitive," but the professor was not administratively sanctioned or terminated.
Now, the students speaking out about Moore's Blue Lives Matter flag are accusing him of "trolling," according to the Daily Trojan article.
Moore said that's not his intent.
"We are in an environment where there is a lot of homogenization of ideas, and diversity should include diversity of ideas," he told The College Fix.
"This [USC] is supposed to be a safe space for diversity of thought," the professor said. "We are charging people very good money to teach them to think. I am just trying to deliver."
Moore said he was inspired to hang the flag for three main purposes.
One, to dispute the notion that police are the biggest statistical threat black lives face. He cited data found in "The War on Cops" author Heather Mac Donald's research to point out that "the conclusions many people have reached about the risk police present to black folks are not grounded in data, because the data says otherwise."
Two, he said he wanted to honor a family member who recently retired as a police detective, saying he respected the work that he did.
Finally, Moore said he seeks to sound the alarm on the fact that the U.S. homicide rate has spiked 30 percent amid the defund the police movement and in the wake of George Floyd's death.
"All of that is attached to this flag, an unvarnished, objective look at what is happening in the U.S.," he said. "We need the police to protect us."
In a statement to the Daily Trojan, a university official asserted Moore's right to keep the flag up:
"The university does not have a policy that limits the display of materials in spaces like this, though we are looking at whether it is needed. As part of the university's commitment to academic freedom, a faculty member can express his or her individual beliefs and viewpoints on a wide variety of topics – even controversial issues – but they do not speak on behalf of a school or the broader university."
Moore said he is satisfied with the university's response — except for that part where officials say they are looking into whether a policy on faculty displays is needed. "Ominous," the professor called it.
He is happy to discuss the flag with anyone, student or otherwise, offended by it, he said. Aside from some cryptic voicemails, the feedback he said he has received has been largely positive: "People have knocked on the door occasionally and said, 'Thank you for doing this.'"
A self-described libertarian, he said he's doing it because he believes colleges should be marketplaces of ideas.
"I am disappointed in the homogeneity of the language I see coming from central administration and the leadership of the school," he said. "It doesn't reflect critical thinking."
"… And whether there are other libertarian and conservative faculty on campus, they are not inclined to speak up in the theater of ideas, so I figure I have a job to do."
MORE: Check out our cancel culture database
Like The College Fix on Facebook / Follow us on Twitter