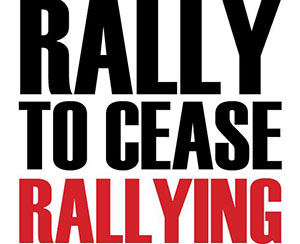 Ohio University has a student-run parody TV show called AVW NewsTime. It looks kind of like The Daily Show (see their photo spreads in particular).
But it messed with the wrong humorless student politicians when it started parody Twitter accounts of the tickets running for student government, continuing "a tradition that has been carried out for years," The New Political reports.
The parodists voluntarily shut down their accounts after their personnel manager tried to reach a compromise with a miffed politico, presidential candidate Ryant Taylor, who claimed it was all about the logos and images:
"I think the main issue with all of these Twitter accounts is that AVW chose to use our exact logos, our exact photos, so that they looked exactly the same. And I think that for a lot of people that was not only confusing…[but] no consent had been given. AVW hadn't reached out to any of the tickets and asked permission to use any of the photos and that was creative content and that was made by people for a different purpose."

[Emma] Wahl, the personnel manager for AVW decided to meet with Taylor to discuss the issue in order to come to an agreement. The two decided that the best way to handle the creative content situation was to have Newstime change the logos and images.

However, because Newstime didn't want to change their message to comply with a senate candidate's wishes or opinions, Newstime decided to just deactivate the accounts.
Legally speaking, NewsTime was probably safe using the logos and photos of public figures for parody purposes, as America learned when the late Rev. Jerry Falwell lost his case against Hustler.
"No Joke" Taylor started the hubbub when he wrote on NewsTime's Facebook page Sunday that he wanted to "have a conversation about why you are doing this."
It got pretty hilarious – read the comments.
So I'm posting this both publicly and privately. I think a very candid conversation needs to be had between people from…

Posted by Ryant Taylor on Sunday, April 5, 2015
Producer Evan Swingle told The New Political that the parodies were "mostly puns."
But it wasn't just Taylor who was complaining:
Other tickets had reached out to the Board of Elections to complain about the parody accounts, said BoE Co-chair Omar Kurdi.

"The BoE decided that AVW was not running on any sort of ticket. It was just political satire, so we had no control or any sort of power to censor or controlAVW's satire," he said.
What a triumph in college administration today – an oversight organization not getting involved in a stupid dispute over a joke.
Sadly, the instigating producer seems to think he must observe some arbitrary line for parody:
Swingle said that part of his practice is mastering the art of not crossing the line and he admits this is the first time AVW Newstime might have done so. But in general, the group tries to be "funny and ridiculous and [use] a lot of puns" especially with senate elections.
When you've forsaken your right to pun liberally, society is in serious trouble.
Greg Piper is an assistant editor at The College Fix. (@GregPiper)
Like The College Fix on Facebook / Follow us on Twitter
IMAGE: AVW NewsTime's Facebook page
Like The College Fix on Facebook / Follow us on Twitter