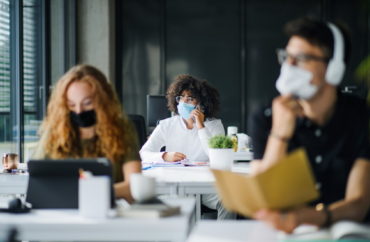 Nearly 75 percent of Princeton students plan to live in campus housing next semester according to the student paper The Daily Princetonian. The university had asked its 4,600 undergraduates to decide if they want to live on-campus or continue to live remotely for the spring semester due to coronavirus concerns.
The fall semester consisted of remote learning, though some students such as graduate students were allowed to live on campus.
The spring semester will have a hybrid format of remote and in-person living, but the Ivy League university will accommodate students who do not want to come for in-person classes.
Princeton will "invite all enrolled undergraduate students to campus for the spring semester," President Christopher Eisgruber said in a November message to the university. "We will also, however, continue to support remote learning for anyone who chooses it. This invitation is in addition to the existing accommodations for our graduate students, many of whom we were able to welcome back to campus in the fall."
Most students accepted the invitation to return to campus.
The  campus paper reported:
After the University announced it would invite all undergraduates back to campus for the spring semester, students had 10 days to determine whether they intend to live on campus.

Approximately 3,400 undergraduate students indicated they would, according to figures provided by Deputy University Spokesperson Michael Hotchkiss. Out of the total 4,700 enrolled undergraduates, 4,600 completed the Housing declaration form. Around 1,200 students have opted to continue learning remotely at an off-campus residence, whether in the Princeton area or beyond.
Only 12 students have requested a leave of absence for the spring semester while 700 had requested one for the fall semester.
The student paper covered several students on their decisions.
"At this time I have few real concerns — there are infection risks on campus, but there are infection risks at home, too," one student said.
Another student expressed concern about how well students would follow coronavirus restrictions.
"Granted, they may do so in the beginning, but I'm sure eventually some of the rules may be broken. I really hope that won't be the case considering that it's our responsibility to keep each other safe during these times," Antea Garo said, according to the campus paper.
MORE: Cornell professor explains why coronavirus rates are much lower than he predicted
IMAGE: Halfpoint/Shutterstock
Like The College Fix on Facebook / Follow us on Twitter