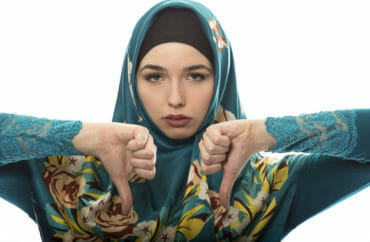 A Muslim Seton Hall University student claims she was racially profiled as she attempted to enter a theater to watch the college's performance of "Steel Magnolias."
Senior Rawda Abdelmenam alleges she was the only one present who was informed her bookbag would need to be checked.
According to The Setonian, Abdelmenam asked house manager Tom Cogan why no one else's bags were being searched, whereupon he purportedly responded "it is protocol" and that "no one else is a threat." In addition, the audience services manager told her Cogan searched her bag for security purposes — due to "things that have been happening in our country."
Abdelmenam believes she was "racially profiled and discriminated against" because she wears a hijab.
"I am one of the very few outwardly veiled Muslims in South Orange," she said. "When he saw me with my hijab on, he shows [sic] to take provocative and discriminatory actions. Students and attendees of all different ethnicities were not stopped, they were not questioned."
The incident prompted Abdelmenam to email vice president of Student Services Dr. Tracy Gottlieb.

Abdelmenam wrote in her email, "Many Seton Hall students and other members were allowed into the theater with bags and bookbags. However, I was the only outwardly veiled Muslim and the only 'threat' to the community." …

Gottlieb wrote in an email that she cannot "publicly comment about a student concern."

Gottlieb said, "I can confirm that university is investigating this student's complaint. It is unacceptable for any Seton Hall student to be singled out based on racism or racial profiling or to be denied access to a Seton Hall-sponsored event, period." …

Abdelmenam said her hijab is not a threat and that she will continue to boycott [South Orange Performing Arts Center] until Cogan is no longer an employee.

Abdelmenam said Gottlieb responded to her email immediately and that they met on Monday to discuss what happened. She said Gottlieb told her that she will take action and get in contact with South Orange officials.

Abdelmenam said she decided to get the school involved because it was a University production.
Theater Director of External Relations Dee Billia noted house managers are "instructed to search large bags," and in reality don't even do a very thorough search. "They just ask the person to open the bag and they glance inside," she said.
She said Cogan did search another person's (large) bag, and that ushers in the upper mezzanine level had checked two large bags.
"Making sure that we gather the facts from all sides and we're gonna sort this out as best as we can," Billia said. "Of course we don't want to have any incidents like these. We want our customers to be happy and enjoy their experience at SOPAC and so we're just trying to gather facts to make sure we know what happened and to address it then."
Nevertheless, some of the friends who accompanied Abdelmenam believe the situation is clear.
Student Allison Carson said Cogan's "'prejudice' drew his attention to [Abdelmenam]," while Cailee Valente — who admitted she did not see what happened — believes Cogan should be fired and Abdelmenam "should receive compensation 'for her traumatic experience.'"
MORE: Student suspended for debating Islamic extremism with Muslim peer
MORE: Bisexual student criticized radical Islam. Guess what happened next …
IMAGE: Rommel Canlas/Shutterstock
Like The College Fix on Facebook / Follow us on Twitter