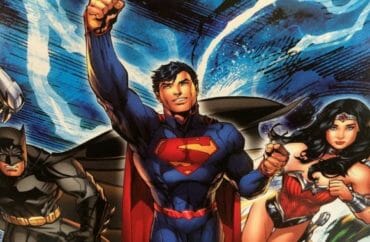 Let them eat comic books
This last school year was a lost one, as far as the bulk of American schoolchildren were concerned.
As part of the American Rescue Plan Act stimulus bill, the Biden administration is making about $122 billion of mad money available to public schools with only one string attached. Schools must spend at least 20 percent of that money on "evidence based interventions" to stem learning loss.
The money is supposed to be used to address the problems of COVID-disrupted learning.
Kids who are not normally self-directed learners had a really hard time of it this past school year, because of the difficulties of distance instruction and the mad scramble by public school teachers to try and reproduce what they were doing in the classroom online.
Moreover, Forbes education columnist Natalie Wexler explains why the "evidence based" requirement isn't much of a constraint when it comes to schools spending this money.
"That sounds straightforward, but the term could just mean there's one study showing positive effects. Meanwhile, there could be—and often are—more studies that go the other way. Or the organization that runs the program might have decided not to publish studies that didn't come out the way they hoped," she writes.
According to my non-COVID-disrupted math, 20 percent of $122 billion comes out to about $24.4 billion. I propose that schools across the country use a little less than half of that money, let's say $10 billion, and buy comic books for the kids.
Not new comic books. At current prices of $4-5 a pop, that wouldn't go very far. Comic book stores, which were hit hard by COVID, have voluminous back stock with quarter and fifty cent bins. Buy up a lot of those.
At, let's say, three comics for a dollar, that amount of money would buy about 30 billion comics for the nation's 70-plus million K-12 students, giving them a lot to read.
My idea is to shower the kids with comic books, give them at least half an hour of quiet reading time in class every day of the 2021-2022 school year, and see what happens.
There has been tremendous debate about comics and literacy, with a mountain of scholarly evidence to sift through. This mountain should be enough to get comics over any "evidence-based" hurdle.
Here is what I believe we know:
1. Given ready access to comic books, kids will read comics without a whole lot of prodding.
2. Poor readers will still read comics, because of the pictures. Think of the drawings as training wheels on a literacy bicycle, if that metaphor does it for you.
3. Girls and boys will read comics, but boys will take to them more readily. This matters greatly because it is young boys who are suffering the most developmentally.
4. You can "scale up" with comic books relatively easily, going from simple stories with smaller words to more complex comics with more difficult language.
5. A well-developed comic book culture leads readers to do just that. Comic fans will regularly say, "You've read X, have you tried Y?" and thus try to introduce their friends to new ideas, worlds, and reading challenges.
I suggest this intervention rather than a curricular approach because the kids who did not have a lot of trouble during the lost year were the self-directed learners. Rather than taking a lesson from that, many experts are writing those kids off as the outliers.
It seems to me a better approach would be to hunt for ways to turn more kids into self-directed learners. Giving them a large stock of comic books and the time to explore those comics would be a relatively cheap, simple, and fun way to see if this hypothesis has legs.
MORE: Student to get graduate degree after submitting thesis in comic book format
IMAGE: lettawren-flckr
Like The College Fix on Facebook / Follow us on Twitter