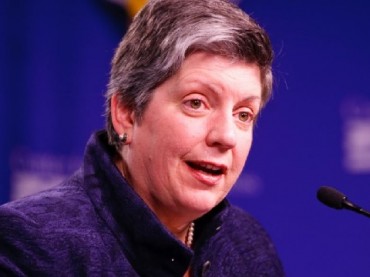 University of California President Janet Napolitano announced Tuesday the creation of an advisory group that will guide her on how best to implement sweeping new LGBTQ-friendly policies within the UC system to make it more "inclusive" for the homosexual community.
Suggestions such as allowing students to officially go by their "preferred" genders in paperwork and implementing a "systemwide gender-inclusive restroom policy" are among the possible new policies the group will weigh.
The suggestions are the result of the system's "UC Task Force and Implementation Team on Lesbian, Gay, Bisexual and Transgender Climate & Inclusion" – made up of students, professors and employees. It was launched in 2012, and since then developed the suggested policies. The task force presented their findings to Napolitano on Friday, according to UC officials.
That task force wants her to undertake several recommendations, including:
Collect data on "sexual orientation, gender identity and gender expression for students, faculty and staff";
Adjust student record systems to "enable students to self-identify with a preferred name";
Develop a "systemwide gender-inclusive restroom policy";
Convene a subcommittee on bisexual community issues;
Have each campus dedicate funding for an LGBT "cultural competency specialist";
Have each campus hire a full-time counselor for LGBT students;
Increase academic initiatives on gender and sexuality; and
Implement a tax equalization program for employees in domestic partnerships who receive health benefits through the UC system.
The "President's Advisory Group on lesbian, gay, bisexual and transgender issues"  is expected to help Napolitano wade through this list of recommendations. It remains to be seen how many of them will become official UC policy.
"Napolitano will review the recommendations and respond at a future date," according to a UC news release.
The LGBTQ community already enjoys strong support and "inclusion" across the UC system. Nearly every UC campus has a LGBTQ resource center that employs a director. There are also a myriad of LGBTQ support groups and campus clubs at every university.
What's more, a relatively new California law allows transgender students to use whichever bathroom and locker room they want, regardless of their biological gender. That underscores California's Unruh Civil Rights Act, which specifically outlaws discrimination based on sex, race, religion, sexual orientation or other qualities.
Recent events on UC campuses also indicate there is strong support and "inclusion" for LBGTQ communities on campus.
In April, UC Riverside hosted a conference specially for non-whites within the LGBTQ campus community, or as organizers put it: "For people who identify as Black/African American or of African descent that also identify as Same Gender Loving, Lesbian, Gay, Bisexual, Transgender, Queer, Questioning or somewhere on the LGBT spectrum."
UC Berkeley recently "scored 5 out of 5 stars on the LGBT-Friendly Campus Climate Index."
UC Davis and several other UC campuses, such as UCLA, will host special "Lavender graduations" this month to highlight and recognize "graduating undergrad and grad students' contributions to UC … and the queer community" with special receptions.
UC San Diego offers scholarships specifically for gay and lesbian students.
And UC Irvine created a special collection in its library to document, highlight and preserve the Orange County LGBTQ community.
But the task force's mandate had come from a survey which found that "39 percent of lesbian, gay, bisexual or queer respondents felt that their sexual orientation was respected on their campuses, compared with 82 percent of heterosexuals. In addition, 34 percent of LGBT undergraduates said feelings of depression or stress had often or very often been obstacles to schoolwork or academic success, compared to 22 percent of heterosexual respondents."
UC system leaders said Tuesday they take the recommendations very seriously.
"The task force recommendations are a concrete next step to advance UC's efforts to create more welcoming and inclusive campus environments for members of the LGBT community," stated co-chair Barbara J. French, UC San Francisco vice chancellor of strategic communications and university relations.
Jennifer Kabbany is associate editor of The College Fix ( @JenniferKabbany )
Like The College Fix on Facebook / Follow us on Twitter
IMAGE: Center for American Progress