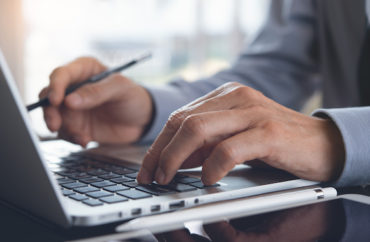 A longtime professor of rhetoric and communication at Towson University is sounding the alarm over the scholarly group that advances communication as a discipline of study, saying it has effectively shut down talk of conservative ideas within its ranks.
Professor Richard Vatz, a professor of communication for more than four decades, said that the National Communication Association is now led by far-left scholars and is guilty of suppressing center-right discussion.
"My national organization, the National Communication Association, has a profound liberal dominance which slightly ebbs and flows in ideological anti-conservative domination with its leadership – it is now in a decidedly 'flow' period," Vatz told The College Fix.
To back up his claim, Vatz points to many examples in a lengthy op-ed published in early February by the Daily Caller.
For one, he wrote the NCA's national convention in November 2019 was laregly focused on far-left themes, including "Competitive Papers in Activism and Social Justice," "Queer Epistolary Rhetorics," and "Bill Ayers Communication Forum: Patriotic Nationalism, Democracy and Social Progress."
Vazt noted that he personally knows at least 10 colleagues who have left the organization due to its efforts to weed out conservatives.
What's more, he added, "articles in the NCA journals almost never have pro-conservative themes" — and even a recent issue of the association's journal touted an abstract arguing "that rhetorical studies as a field, and The Quarterly Journal of Speech as the journal of record for that field, are racist."
Vatz also pointed to the NCA's decision last fall to shut down its listserv, the Communication, Research, and Theory Network, as further proof of the association's bent against center-right academics.
According to an article in Inside Higher Ed, it was shut down after Vatz and one of his peers threatened a defamation lawsuit against colleagues over allegations of racism due to discussions within the listserv.
The National Communication Association declined to comment to The College Fix.
Vazt said he is not worried only about his association, but higher education as a whole. He wrote an op-ed for the Baltimore Sun detailing his concerns.
"The liberal-conservative professoriate divide is a self-perpetuating phenomenon. Many liberals insist that their curriculum should also be left-leaning, along with their campus administrators, and they hire only those professors and administrators who will support that political position," he wrote.
In his interview with The Fix, Vatz said that it's not his goal to persuade every student to traditional conservatism, but rather to have those ideas "explained in colleges and universities along with other values and not neglected."
VIDEO: Campus activists shut down speech
IMAGE: Shutterstock.
Like The College Fix on Facebook / Follow us on Twitter