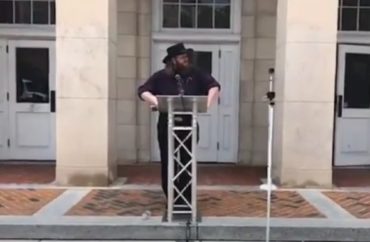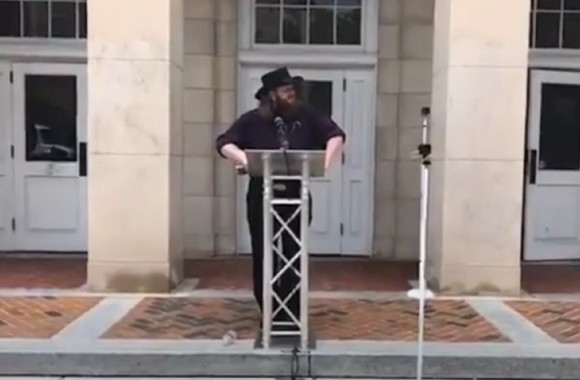 'I categorically denounce white supremacism and, as a patriotic American, I abhor the concept of fascism and authoritarianism of any sort'
An IT manager for North Carolina State University is defending his reputation against charges of white supremacy from a local activist group.
He also faces allegations from a socialist activist group leader that he posted personal information online and encouraged harassment.
Chadwick Jason Seagraves, a desktop support manager for the public university, told The College Fix that accusations against him of white supremacy and membership in the Proud Boys are false.
He has been accused of such by Move Silent Sam, an activist group that helped successfully lead a campaign to remove a Confederate statue called Silent Sam at the University of North Carolina.
Move Silent Sam told The Fix via Twitter messaging:
There is no reason to doubt that Chadwick Seagraves was a member of the Proud Boys in 2017. It's possible that he is no longer a member of this fascist gang. He should stop lying about his involvement with the Proud Boys. He should admit that he was a member of this violent, anti-Semitic, Islamophobic, transphobic, and misogynistic group.
"We will not rest until NCSU fires Chadwick Seagraves," Move Silent Sam said in response to a follow-up question on if it would drop its campaign if the school or a judge cleared Seagraves of the accusations against him. The group refused to provide a name of a person for attribution for its comments.
The accusations begin with a "MAGA Free Speech Rally" in Chapel Hill in June 2017.
"That was a Free Speech rally in celebration of Flag day [sic] 2017 and unaffiliated with any group," Seagraves told The Fix via email. "It was advertised broadly and had attendees of all political persuasions. It was cool that a lot of folks just walking down the street stopped to talk and engage."
The IT manager said that a local ANTIFA group set up a table at the rally.
Rally organizers asked Seagraves to introduce a former Libertarian Party candidate for U.S. Senate from Florida, Augustus Sol Invictus, who has been accused of white nationalism. Invictus also helped organize the white supremacist Charlottesville march, but that rally occurred months after the Chapel Hill event.
Furthermore, the rally included a racially and politically diverse group of speakers. Seagraves shared with The Fix a copy of a press statement put out before the rally.
Seagraves said:
What my accusers will not show or mention is that the event organizers had arranged a very eclectic list of speakers for that day. I gave all of them introductions. Surprisingly the only video that ever got published was the muckraking one regarding a person who called me the night before the rally and asked if they could join the roster. In fact, we released a statement of intent as a press release several days prior to the event to make clear our position. In picking speakers for this event we chose people from a wide range of minorities, religious backgrounds, and conservative political views …who included:

Sue Googe is a first generation Chinese immigrant, former candidate for Congress in NC, a successful female entrepreneur, and also a librarian. Her grandfather, and many other male members of her family, was murdered by the Communist regime before their property was confiscated.

Alex Smith is an ex-Muslim from the Middle East who faces the ramifications of speaking out against the fundamentalists of his former religion

Apostle DJ Wiggins is a conservative African American pastor from Garner who works with runaways and drug addicts.

There were 7 or more speakers that day. That day was my first time meeting any of them.
"I am not a member of the Proud Boys. To paint me as a racist and fascist is heinous slander. I will continue to stand up for the principles and values put in place by the Founding Fathers," Seagraves said in an email to The Fix.
The Proud Boys have faced accusations of racism, although its founder, commentator Gavin McInnes, denies these accusations. The group often brawls with Antifa and other leftist groups and came under further scrutiny after its activities were mentioned during a 2020 presidential debate.
Seagraves said:
I categorically denounce white supremacism and, as a patriotic American, I abhor the concept of fascism and authoritarianism of any sort. Our current state of politics is a clash of values. Each side seeing the same set of facts and coming to varying conclusions based on the hierarchy of values to which they subscribe. As a librarian, trained to provide authoritative sources, I have witnessed even those once trusted authorities sink into bias and partisanship. Epistemologically, we are at our lowest.
Accused of doxxing, online harassment
Seagraves is also facing a lawsuit from Olivia Katbi Smith, co-chair of the Portland chapter of Democratic Socialists of America.  
"The complaint alleges Chadwick Jason Seagraves posted the home address of Smith and her family online this month and encouraged others to spread the information across far-right online platforms," Willamette Week reported.
Seagraves declined to comment on the lawsuit.
"Upon advice from legal counsel, I will not comment on the lawsuit other than to note that it is a far-Left tactic to intimidate and further harass me for conservative political expression," Seagraves told The Fix.
The Fix asked North Carolina State to comment on its month-long investigation into allegations against Seagraves that he used his position to access personal information. The Portland lawsuit and allegations from activists seems to have prompted the investigation, as well as allegations that Seagraves runs an anonymous Twitter account under the name "Elias McMahone" that allegedly sent harassing messages to a NC State student.
"NC State continues its thorough review of the allegations of employee misconduct," Mick Kulikwowski, a university spokesperson, told The Fix via email.
"It is 100% clear that 'Elias McMahone' is actually Chadwick Seagraves, and that he doxed at least one NCSU student, and many antifascists in Asheville and Portland," Move Silent Sam told The Fix.
Seagraves said he would not comment on if he runs the Elias McMahone account, on advice of his attorney.
Seagraves does not have access to student's personal information, according to the university's statement to Inside Higher Ed.
Today marks one month since @NCState University was notified that employee Chadwick Seagraves is a fascist "Proud Boy."

For some reason, @WRAL, @ABC11_WTVD, @SpecNews1RDU, @WUNC & @WNCN have not reported on it.

NCSU has not fired him or even suspended him without pay. pic.twitter.com/BhhNbi7kZw

— Move Silent Sam (@Move_Silent_Sam) December 17, 2020
"I have served in my position with distinction and believe that my record of diversity as a hiring manager; the equality, kindness, and compassion with which I treat all of my colleagues; and my integrity and commitment to upholding the university's values of diversity and equity will stand alone," Seagraves said.
MORE: Students work to remove UO College Republicans from campus
IMAGE: Move Silent Sam/YouTube
Like The College Fix on Facebook / Follow us on Twitter