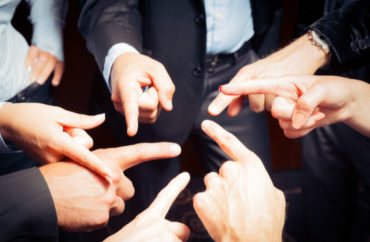 Doesn't even admit its own rules are the cause of it
The government has largely botched the coronavirus response by slowing down private efforts to develop tests and treatments and produce supplies, but the private sector can also step on its own feet.
NCAA rules prohibiting student athletes from using their name, image and likeness for crowdfunding got one such effort shut down.
The State newspaper reports that Clemson University's compliance department instructed quarterback Trevor Lawrence, one of South Carolina's biggest celebrities, and his girlfriend, Anderson University soccer player Marissa Mowry, to shelve their fundraiser launched Monday.
Their GoFundMe page for "COVID-19 Family relief and support" raised $2,670 before Clemson put the kibosh on it, citing NCAA rules. Now it's deactivated. (Google's cached version from Monday night quickly redirects away, leaving a blank page.)
Mowry told her Instagram fans Monday that "Trevor cannot be a part of this anymore due to compliance and some rules."
The State said it gave the NCAA a chance to respond before publishing its story Tuesday, but the association only relented after the article went up, promising "a waiver for Lawrence and other athletes" for this specific purpose.
Horrified by the PR of shutting down a coronavirus relief effort, the NCAA quickly deflected blame, telling Clemson to ignore NCAA rules and let Lawrence raise money for the cause.
It released a duplicitous statement that not only ignored that its rules were the cause of this, but also the ongoing controversy over its refusal to let student athletes profit from their labor:
The NCAA did not ask Clemson student-athlete Trevor Lawrence to take down his fundraiser for COVID-19 patients and their families. We continue to work with member schools so they have the flexibility to ensure that student-athletes and communities impacted by this illness are supported, and we applaud Trevor for his efforts.
MORE: NCAA's 'bathroom bill' retaliation may violate its tax-exempt status
https://www.instagram.com/tv/B-F_DF8H7e_/?utm_source=ig_web_copy_link
Ever the diplomat, Lawrence thanked the NCAA for backtracking but said he and Mowry would "take some time and kind of think about how we're going to restart it back up":
We just wanted to say that it wasn't necessarily the NCAA doing anything bad. They weren't trying to stop us from helping raise money for this cause. It was more of just their rules that are in place that our compliance department was following just to make sure that we were in the clear as Clemson, as an organization, that we were doing things the right way. [The State attributes this comment to Instagram but it doesn't appear on Lawrence's account.]
Mowry's updated post asks Instagram users to send "letter nominations" for the proceeds of their relief effort to a joint email for the couple.
Yahoo Sports columnist Dan Wetzel called on the NCAA to junk the rule altogether, rather than demand athletes and programs seek waivers, and even questioned its authority over athletes in the off-season:
Even under normal circumstances this rule is dumb. The fear of exploitation is used to prevent untold amounts of charitable good. In lots of places in this country, the local college star is the biggest celebrity around.

Is there some way in which Lawrence might gain some extra benefit by helping raise money? Sure. Anything is possible.

Does it matter?
Wetzel also points to the massive hypocrisy of requiring athletes to seek waivers, noting the NCAA lets their schools raise money off them with donors to feed their own coffers.
Read The State report and Wetzel's column.
MORE: NCAA suggests colleges let cisgender men use women's locker rooms
IMAGE: nullplus/Shutterstock
Like The College Fix on Facebook / Follow us on Twitter