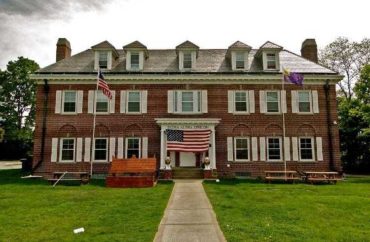 Nearly 50 fraternity members at the University of New Hampshire face criminal hazing charges following an April event with new members.
The Durham Police Department announced Friday that it issued warrants for 46 members of the Sigma Alpha Epsilon New Hampshire Beta chapter for an alleged hazing event in mid-April at its chapter house (pictured), CBS reported, adding police also issued a warrant for the fraternity chapter itself.
Details of exactly what allegedly transpired on the night in question have yet to be released.
Five days after the gathering, the university contacted authorities to report an alleged hazing event. Police completed an investigation and concluded that there was "probable cause" a crime had taken place, according to CBS.
Student hazing is a misdemeanor offense and each accused member could face a $1,200 fine if found guilty, and the chapter could be fined up to $20,000, CBS reported.
The police issued warrants on June 6 and arrested 10 members on June 10, CNN reported June 11. The 10 arrested have been charged with hazing, police said.
Fraternity men charged included 'actors of the hazing' as well as bystanders who did not report it, county attorney said
"The law allows us to charge those who were the subjects and actors of the hazing as well as those who were present for the hazing and didn't report it," Deputy Court Attorney Emily Garod of the Strafford County, New Hampshire, attorney's office told CNN. "The 46 individuals charged fall within all three of these categories."
Garod added she could not release many details of the case because it is pending.
The arrested fraternity members' arraignments are scheduled for July 13.
University of New Hampshire said in a statement that it had suspended the fraternity during the investigation, according to CBS, noting officials "take any allegation of hazing very seriously, and now that the police investigation is complete, we will be initiating a formal conduct process."
Sigma Alpha Epsilon's Illinois-based center told CNN that upon receiving notice of the allegations it "immediately issued a cease and desist of the chapter, began our own investigation, and informed the University of New Hampshire's administration."
"Sigma Alpha Epsilon denounces all acts of hazing and misconduct that do not represent the fraternity's values defined by our creed, The True Gentleman."
MORE: Fraternity CEO resigns from conservative group advisory council
IMAGE: UNH Sigma Alpha Epsilon/Facebook
Like The College Fix on Facebook / Follow us on Twitter