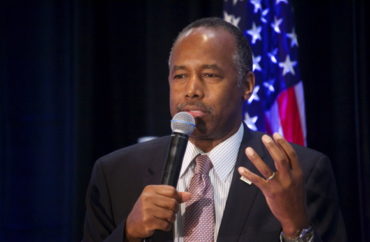 'It's an attempt to use race as a mechanism for redefining our society'
Neurosurgeon and former U.S. Housing and Urban Development Secretary Ben Carson took on critical race theory in a recent interview, calling it "a bunch of garbage."
In an interview Sunday on NewsMax, Carson was asked to define critical race theory.
"It's an attempt to use race as a mechanism for redefining our society," Carson said. "It wants our people to believe that your race is the most critical determinant of who you are and what happens to you in our society. In other words, it's a bunch of garbage."
Asked about Marxist influences on critical race theory, Carson cited Vladimir Lenin's famous quote: "Give me your children to teach for four years and the seed that I plant will never be uprooted."
Leftists "know the importance of getting into the school systems and indoctrinating the young people and that it will have a permanent effect. We are already starting to see the seeds of that," Carson said.
But Carson said America does not deserve the bad rap it gets from progressives.
"Our country is a magnificent place," he said. "It can't be destroyed by Russia or China or Iran or North Korea — but it can be destroyed from within. … That's what Jesus meant when he said a house divided can't stand, Lincoln reiterated that."
Carson said black achievement has advanced greatly in America over the last century and America should be celebrated. The notion that black Americans are oppressed today is ridiculous, he said.
What keeps someone down, he said, is how they think.
As a neurosurgeon, "when I peel that scalp back and take that bone flap off … I am looking at the thing that makes that person who they are," Carson said. "It's not their nose or their hair or their skin that makes them who they are, it is their brain. … The brain is like a super computer. You program it and it responds accordingly."
MORE: Black Penn professor calls Dr. Ben Carson 'Coon of the Year'
IMAGE: Gregory Reed / Shutterstock
Like The College Fix on Facebook / Follow us on Twitter