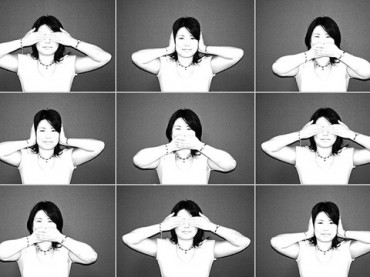 A gun-control rally was held in Isla Vista over the weekend in the wake of the recent tragedy in which six people were killed in the UCSB college town by lone assailant Rodger Elliot.
Students, locals and members of nonprofit organizations gathered in front of I.V. Deli Mart Saturday (May 31) to protest gun violence for the #NotOneMore campaign, a gun control movement started by Richard Martinez, father of Christopher Ross Michaels-Martinez, a victim of the May 23 Isla Vista mass murder.

Around one hundred attendees walked from I.V. Deli Mart to the killer's apartment complex to the Alpha Phi sorority house and finally back to I.V. Deli Mart. During the march, campaigners listened as the names of those killed in each spot were read, shouting "Not one more!" after each name.
Nevermind that half of the victims were stabbed to death with a knife. Nevermind that California has some of the strictest gun-control laws in the nation. Nevermind that the police never ran a background check on Rodger to determine if he owned any weapons when they checked in on his strange behavior, information they had readily available in their database. Nevermind that if a law-abiding citizen had a gun on them they might have been able to stop Rodger before so many people were killed. Nevermind that the real culprits behind this 22-year-old spoiled brat's rampage were extreme mental health struggles, sociopathic tendencies, and narcissist personality disorder.
Nevermind logic. Nevermind truth. Nevermind reality.
Jennifer Kabbany is associate editor of The College Fix ( @JenniferKabbany )
Like The College Fix on Facebook / Follow us on Twitter
IMAGE: Rob Gallop/Flickr