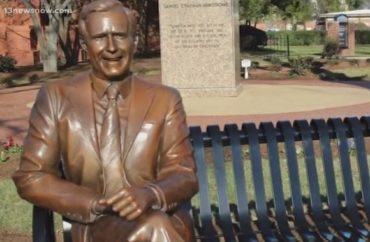 'Tear Down George HW Bush Statue at Hampton & the Negroes Who Put It There'
A newly unveiled statue of former President George H. W. Bush, who recently passed away, has drawn protests at Hampton University, a historically black university in Virginia.
The Bush statue is one of many to be revealed as part of a new park display. During his life and especially as president he was a huge supporter of historically black universities, and part of that support was directed toward Hampton.
"Eleven exquisitely sculpted figures of men and women of varying ethnicities from all walks of life are virtually coming to life along the scenic waterfront of the historic campus of Hampton University," the university touted in a recent news release. "The veils were lifted in a special ceremony on Sunday, January 27th revealing a breathtaking place of reflection that will forever be celebrated as 'Legacy Park.'"
In addition to Bush, there's bronzed statues of Martin Luther King Jr., Rosa Parks, William Howard Taft, Mary Jackson, Barack Hussein Obama, Susan B. LaFlesche, Mary Peake, Jerome Holland, Reuben Burrell and Frederick Douglass.
But the Bush statue has drawn ire. NewsOne reports it created a small Twitter storm of criticism from alumni and others asking why he was among the honorees. Some current students told a local ABC news affiliate they thought including Bush was disrespectful, saying he did some things that hurt the black community and there were other black leaders who would have made a better choice.
Inside Higher Ed reports one main point of contention stems from the Willie Horton ad run during Bush's successful presidential campaign:
When Bush gave the commencement address at Hampton, two-thirds of the graduates participated in a silent protest during the ceremony.

Some of those students are among those, as alumni, organizing to protest the statue. A T-shirt is being sold. [The blue T-shirt reads: "Our Legacy? Tear Down George HW Bush Statue at Hampton & the Negroes Who Put It There."]

A petition is gathering support, noting that Bush was a loyal member of the Reagan administration, whose policies, the petition says, hurt African Americans.

The petition, referencing the Willie Horton ad, says that Bush "ran ads during his campaign for presidency that were straight out of the playbook on how to dog-whistle racists."
But university officials, in announcing its reasoning for selecting Bush, noted he did many positive things to support the black community and historically black universities:
President Bush demonstrated a long-standing support of Historically Black Colleges and Universities over his career. He delivered the 1991 Commencement address at Hampton University. Within the three years following President Bush's address, Hampton University received $40 million in federal support for faculty research, scholarships for students, and programs to enhance the university.

… President Bush founded the United Negro College Fund chapter at Yale University during his college days.

As president, he continued his overwhelmingly positive support for Black Colleges with initiatives such as appointing 23 individuals to the President's Board of Advisors on Historically Black Colleges and Universities to advise him and the Secretary of Education on ways to strengthen the HBCUs; directed the Office of Personnel Management, in conjunction with the Secretaries of Labor and Education, to develop a program to improve the recruitment of graduate, and undergraduate HBCU students for part-time and summer federal positions; and signed Executive Order 12677, which directed 27 agencies to increase the opportunities for the participation of HBCUs in federal programs.

… HBCUs received a total of $776 million in fiscal year 1989 and $894 million in fiscal year 1990, an increase of $118 million dollars.
In December 2018, longtime Hampton University President William Harvey called Bush a "vastly under-appreciated friend" of historically black colleges and universities, the Philadelphia Tribune reported.
"I believe in giving people their credit when it is due," Harvey said. "President Bush was not only a good friend of mine, but he was an extraordinary person who believed it was crucial that African Americans have access to education. I think that's something that we must acknowledge."
Bush died Nov. 30 at the age of 94.
MORE: Pepperdine's Columbus statue wiped off the map, possibly for good
IMAGE: 13NewsNow screenshot
Like The College Fix on Facebook / Follow us on Twitter