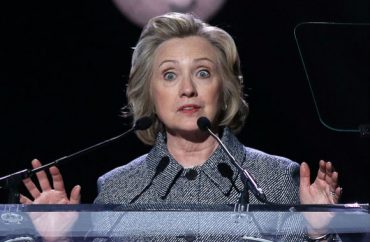 Columbia Journalism School recently announced that Raju Narisetti, the former Gizmodo CEO and News Corp senior vice president of strategy, will join its department as a professor of professional practice and their new director of the Knight-Bagehot fellowship in economics and business journalism.
Narisetti is also a major Hillary Clinton supporter, and recently donated 40 times to Clinton and three times to the EMILY's List PAC that supports Democratic female abortion supporters, according to a report by the Media Research Center, citing data from the Center for Responsive Politics.
The Clinton donations were spread out in small amounts through 2015 and 2016, while Narisetti was senior vice president of News Corp, and totaled $2,679. The donations to EMILY's List were smaller, totaling $497, and made in 2016 and 2017.
Narisetti also appears to be something of a Hillary Clinton fanboy on social media.
Loved the @Russia hat bit, @HillaryClinton. 🙏🏾 https://t.co/txQlvzhFye

— Raju Narisetti (@raju) May 20, 2018
On May 17, Narisetti tweeted "the [Hillary Clinton] legacy" regarding a New York Times article stating that a record number of women were running for congress. Additionally, Narisetti tweeted at Clinton, saying that he loved her "[Russian] hat bit," referencing her commencement speech at Yale where she donned a Russian hat to take a jab at President Trump.
Narisetti and Columbia University did not respond to multiple attempts made by The College Fix to comment on this article.
According to a Columbia Journalism article, Narisetti will focus on "business journalism, media entrepreneurship, and the business of journalism, in addition to overseeing one of the most sought-after business journalism fellowships in the country."
The Knight-Bagehot fellowship is a 10-month program established in 1975. It is designed to "reinforce and strengthen the ability of journalists to do more sophisticated business journalism, a need that has only become more acute in a complex, interconnected, global world," the university states. The fellowship also focuses on how the business world is being rapidly changed by technology and big data.
Narisetti will begin this fall.
"I am delighted to join the journalism faculty and also lead the Knight-Bagehot Fellowship program at Columbia University," he stated in the Columbia Journalism article
"Both business journalism and the business of journalism are facing unprecedented uncertainty and tumult. The Columbia Journalism School… offers a unique opportunity to explore and innovatively address these challenges."
This new position at Columbia comes soon after his departure from Gizmodo. Just two months ago, Narisetti stepped down as the CEO of Gizmodo because of the looming threat of company cuts and more hands-on control from parent company Univision, the Daily Beast reported.
MORE: Math professor urges students to vote for Hillary Clinton
IMAGE: J. Stone/Shutterstock
Like The College Fix on Facebook / Follow us on Twitter