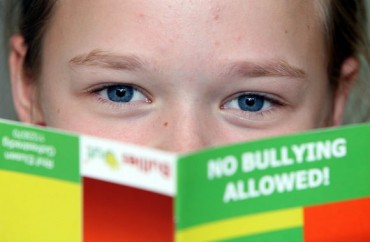 Now a presidential candidate, New Jersey Gov. Chris Christie signed "the strictest anti-bullying law in the country" in 2011. It was immediately attacked as an infringement on students' First Amendment rights and a confusing mandate on teachers who were tasked with deciding what constituted "bullying" and reporting it.
Now the law has been cited by a principal against a student who made a series of anti-Israel tweets, one of which mentioned a pro-Israel student without naming her, over the winter break, New York-area blog Gothamist reports.
It calls 16-year-old Bethany Koval a "prolific" Twitter user who said terrorist group Hamas was "not extreme" and that Israel is a "terrorist force."
Though Koval's Twitter account has since been marked private, Gothamist said these tweets in particular alarmed school officials. The second one tells another user she will direct-message her with her pro-Israel school antagonist's name.
Koval surreptitiously recorded her interaction with Assistant Principal Frank Guadagnino, who called her in to explain the tweets and told Koval "she could be formally charged with bullying, which under New Jersey's Anti-Bullying Bill of Rights Act (pdf) can lead to suspension or expulsion."
Who could've guessed NJ's anti-bullying law would be used to censor students? (@TheFIREorg.) https://t.co/wPPdOeSYzQ https://t.co/Id1M99QZTn

— Will Creeley (@WillatFIRE) January 7, 2016
The New York Times said Koval is an "Israeli Jew":
On another recording Ms. Koval can heard telling the administrator that she believed her tweets about Israel were "controversial" but not "problematic."

"Well that's your interpretation," the administrator responded. "There's a state law that might interpret it differently."
Superintendent Bruce Watson told the Times:
At no time have District officials sought to censor or reprimand any pupils for their online speech. The investigation is focused solely on the factors we are required to apply by law and not upon any political opinions expressed by any pupils.
Read the Gothamist and Times stories. The Foundation for Individual Rights in Education also warned in 2012 that the bill's application to colleges had been largely overlooked.
h/t Will Creeley
Like The College Fix on Facebook / Follow us on Twitter
IMAGE: Working Word/Flickr