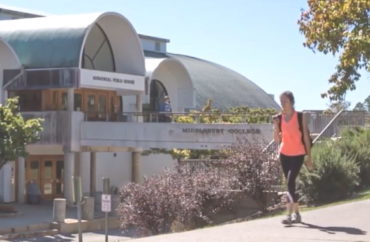 Vows to use 'social justice' methods to treat mental health
The new student counseling director at Middlebury College has vowed to use "more inclusive" methods to treat student mental health, including a focus on white supremacy and social justice.
Alberto Soto, who received his PhD. in counseling psychology from Brigham Young University, told the Middlebury Campus newspaper that counselors he worked with in the past often lacked "cultural competency."
"The body and mind cannot be healed solely by self-care and focusing on surviving," Soto said. "At some point we must address and identify the source of all our psychic suffering, which is whiteness, heteronormativity, patriarchal systems, etc."
"To silo healing to a room and not consider the broader systemic dynamic is to ignore the oppression and injustices that impact our overall mental health," Soto said.
Soto declined numerous invitations by The College Fix to comment.
Soto said his first steps will include, according to the paper, "increased and more inclusive outreach and mental health services for a diverse student population, as well as questioning Eurocentric ideas surrounding mental health."
He also said he "looks to challenge the historically-dominant whiteness in the Middlebury community in order to create a more open environment for students."
According to CollegeFactual.com, only about 3.8 percent of the 2,556 students at the Vermont liberal arts college are black. Around 10 percent of the students are Hispanic.
Nearly 95 percent of the faculty at Middlebury is white.
Nonetheless, the Middlebury campus has spent the past few years cultivating its persona as one of the most active antiracist campuses in America.
Last year, the campus newspaper announced it would no longer print photos from anti-police protests because the pictures may help law enforcement identify the students protesting.
"While the purpose of photos is to document events, we recognize that they can be weaponized by police forces — and that Black and Brown protestors are particularly vulnerable [because they are protesting in public]," the paper's editors wrote. "Thus, going forward, we plan to prioritize the safety of protestors by omitting photos of Black Lives Matter and related protests that can be used to identify individuals easily."
Most notably, Middlebury is where a 2017 riot took place when author and political scientist Charles Murray attempted to speak on campus. During the event, Professor Allison Stanger suffered neck injuries and had to go to the emergency room after being attacked by rioters.
Later, the school approvingly posted a photo of the melee on its Instagram account. The Instagram story was part of the college's "Midd Daily" campaign, "which aims to give prospective students a taste of campus life."
Yet at the same time schools have ramped up their antiracist efforts, mental health among students has only gotten worse. According to a Boston University study of 33,000 college students released in February, feelings of anxiety, depression, and isolation among students are at all-time highs. (Some of this is attributed to being away from school during the COVID-19 pandemic, but these levels had been spiking well before schools closed down in early 2020.)
According to the study, 83 percent of students said their mental health had negatively impacted their academic performance within the past month, and that two-thirds of college students are struggling with "loneliness and feeling isolated."
Rather than looking to social justice as a cure, the Boston University researchers suggested things like making sure student assignments are due at 5:00 P.M. and not midnight, so students can get more sleep.
They also emphasize reducing the cost of an education.
"Student debt is so stressful," said researcher Sarah Ketchen Lipson. "You're more predisposed to experiencing anxiety the more debt you have. And research indicates that suicidality is directly connected to financial well-being."
According to the Middlebury website, a single year of tuition, books, and housing on campus costs over $72,000.
Ben Gooch, associate director of clinical operations for counseling services, told the Campus newspaper that "social justice practices" and "experiences with multicultural counseling" are required for anyone looking to apply to work with the Middlebury counseling center.
"We work with programs that we know have a strong stance on supporting underserved communities and training their future counselors to be social justice advocates and allies," Gooch said.
ALERT: Check out our new Campus Cancel Culture Database!
IMAGE: YouTube screenshot
Like The College Fix on Facebook / Follow us on Twitter