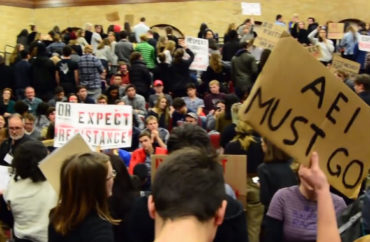 Campus spokesperson said post taken down, called it 'mistake' 
An Instagram story posted on the official Middlebury College account last week, appearing to laud the infamous 2017 riot at the school against political scientist Charles Murray that left a professor injured, was removed.
"It was a mistake. The photo was used inadvertently and the post has been taken down," Middlebury College spokesperson Sarah Ray told The College Fix via email.
A screenshot of the Instagram story taken by The Fix shows a student holding a sign that states "this is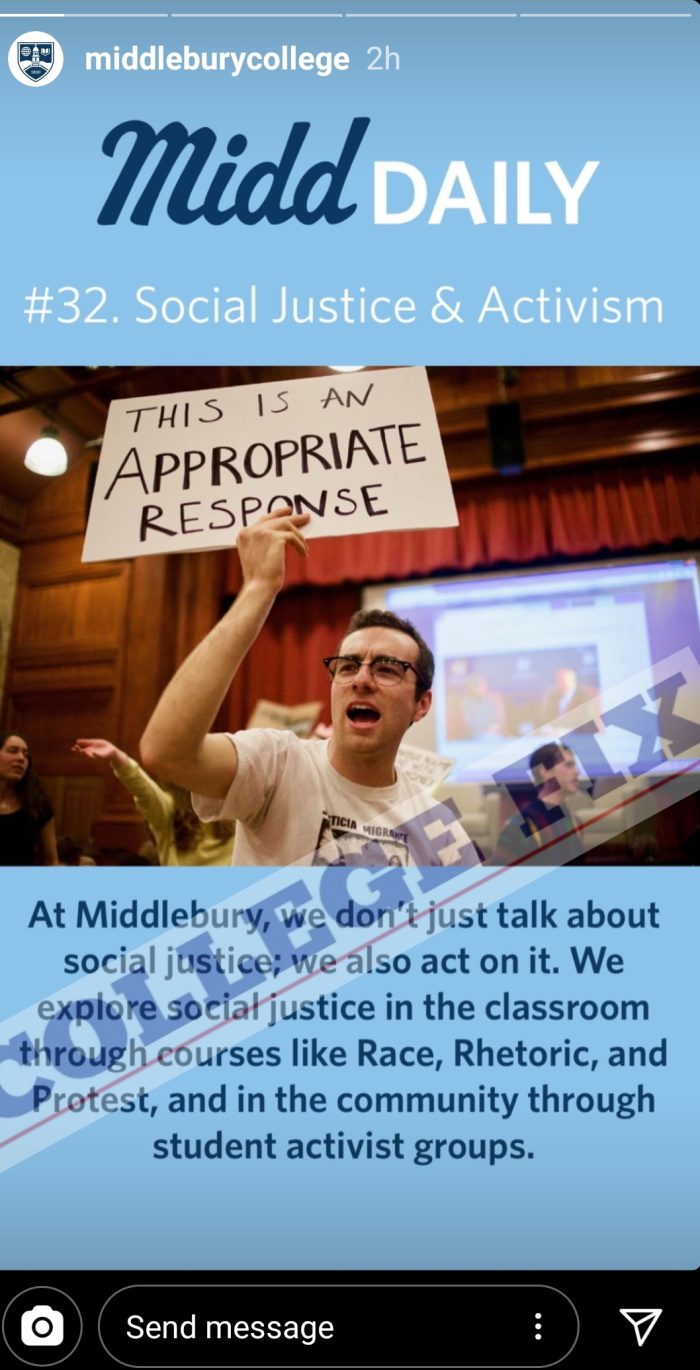 an appropriate response" with an image of political science Professor Allison Stanger and Murray on a screen in the background.
The text on the bottom of the post reads in part: "At Middlebury, we don't just talk about social justice; we also act on it."
Professor Stanger had gone to the ER with a neck injury after escorting Murray from campus surrounded by a mob of protesters in 2017. The incident made national headlines and some students were sanctioned for their involvement.
An article published Sunday in the Middlebury Campus student newspaper reports the Instagram story was part of the college's "Midd Daily" campaign, "which aims to give prospective students a taste of campus life."
The Campus reports that the picture in question was taken by a staff photographer in front of the livestream of Murray's 2017 visit (the American Enterprise Institute scholar had been ushered to a private room to finish delivering his talk via livestream after rowdy protesters essentially shut down the event in the main lecture hall).
The sign was held by a student who was subsequently sanctioned, the Campus reports.
Among some students the social media post drew controversy — not because it appeared to celebrate and condone physical violence against free speech — but because it used for a college advertising campaign an image from an event in which students were disciplined, the Campus reports.
The headline read: "College Instagram campaign features sanctioned student protester, reviving Murray tensions." The college's social media director appears to suggest the anger is "fully justified."
"When we realized our mistake, of course we were concerned about any hurt it would bring to our community," the official told the Campus. "In this case, both the admissions and communications teams recognized that we had made this oversight, and deleted the post."
While it may be an oversight from a PR perspective, the post seems to back up campus leaders' stance to support and advance a student body that seeks to shut down free speech, by threat or force if need be.
It mirrors the similarly apologetic position administrators took after students got upset over another speaker they disliked. Last year, Middlebury administrators apologized to students and pledged to try and prevent right-wing guest speakers from visiting campus after uproar over a speech by conservative Ryszard Legutko.
Legutko, a prominent Polish philosopher and politician, had his April 2019 appearance abruptly cancelled hours before he was set to give his speech, with administrators citing vague "safety" concerns. (Legutko ended up giving his talk in semi-secret in a political science professor's class.)
"You are absolutely right, me apologizing is not going to cut it," an administrator at the time told students furious over Legutko's talk. "We have to change, and it's not up to you to engage, it's up to us … you should be frustrated. I'm just really frustrated too, and again that doesn't make this right, doesn't absolve me of my responsibilities in any shape or form, but we're going to keep at it, because this is not the institution we want."
At the beginning of this year the College Republicans at Middlebury had invited Murray to return to campus, arguing that the "way the administration and the protestors handled the 2017 event was a stain on Middlebury's reputation and a betrayal of its mission of 'creating a world with a robust and inclusive public sphere.'"
But the event was shelved due to the coronavirus pandemic.
MORE: Student government will disband unless students allowed to vet speakers
MORE: 'McCarthyism is making a real comeback' thanks to Middlebury College
IMAGE: VT Digger / YouTube
Like The College Fix on Facebook / Follow us on Twitter