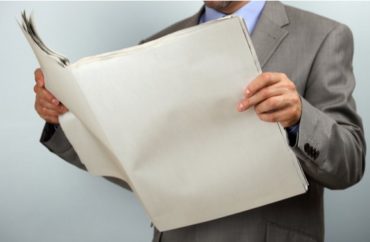 Will censor photos so protesters in public can't be identified
Campus newspapers face heavy internal pressures to give up their independence and do the bidding of groups that have enormous cultural power, yet are perceived as marginalized.
Four years ago, Wesleyan University's student newspaper threw its columnist under the bus for mildly criticizing the Black Lives Matter movement, which was then new. Activists stole hundreds of its newspapers anyway, and the student government defunded the Argus twice.
The Argus leadership responded by … rewarding the thuggish activists with their own column apart from op-eds.
Now The Middlebury Campus seems to have caved to its own activist community – not for offending them with wrongthink columns, but for simply doing journalism.
Reflecting on George Floyd's death at the hands of Minneapolis police, the trigger for protests and riots that have exempted themselves from social distancing, the executive team for Middlebury College's student newspaper wrote an overheated column thin on research and thick on hyperbole.
Black Americans face "systemic and constant violence" (presumably meaning from police, which is not backed by data) and "continue to be the target of a carnage characterized by impunity" (two other recent incidents mentioned).
MORE: Student journalists apologize for taking photos in public
The newspaper will prove its "anti-racist" bona fides by asking itself "what role we play in perpetuating a system that leaves room for such injustices" and then committing to "fighting complacency in [its] every motion," wrote editors Bochu Ding, Hattie LeFavour and Riley Board, none of whom is black.
They complained that "national media coverage" was "gratuitously cover[ing] violence, looting and rioting while neglecting to thoroughly document peaceful demonstrations" – a view so disconnected from reality that the most charitable explanation is they only watch Fox News. Coverage provides "an inherently negative framing of protestors and obfuscate[s] the intentions of protest movements." Right.
In a truly Orwellian passage, the editors explain how they must worsen their journalism in order to "meet our standards of reporting." Not only will they focus on "the voices of the Black community" in all coverage (not just "Black-led" activism), but they will censor photos in the service of activists:
While the purpose of photos is to document events, we recognize that they can be weaponized by police forces — and that Black and Brown protestors are particularly vulnerable [because they are protesting in public]. Thus, going forward, we plan to prioritize the safety of protestors by omitting photos of Black Lives Matter and related protests that can be used to identify individuals easily.
Sadly, pressure had been building in the newsroom to censor images on the basis that they could trigger students.
MORE: Student paper columnist fired for using 'illegal alien' in column
Its plan of action mirrors the action taken by Northwestern University's student newspaper after activists howled that they were photographed and asked for comment while protesting a public event with former Attorney General Jeff Sessions.
The Daily Northwestern apologized for doing journalism, took down the photos that activists found "invasive" and generally promised to not do anything that could help cops or campus administrators identify protesters. It falsely claimed that it was operating under Society of Professional Journalists ethics.
The Middlebury Campus couches its abdication of journalism in context of the "institutional racism deeply entrenched in American society" and "structures of marginalization" that are "pervasive" even on campus.
It has "a responsibility to address internal racism and bias," so the newspaper will "do more to uplift the voices that often go unheard." (Have you had trouble hearing these supposedly unheard voices? They're inescapable across mainstream media and further left, and certainly in campus newspapers.)
The editors rightly say they plan to "begin dialogues" with cultural organizations – it's good to get to know the communities who are active on campus for purposes of coverage. They invite readers, also rightly, to submit op-eds and letters but also join staff as writers and reporters.
Improving journalism coverage by talking to more sources, however, does not require the editors to paint a staggeringly fictional portrayal of America in order to abandon the core principles of journalism. It's not a complicated field, and it certainly doesn't require indoctrination in critical race theory.
MORE: Student paper loses funding – again – after running op-ed critical of BLM
IMAGE: Brian A Jackson/Shutterstock
Like The College Fix on Facebook / Follow us on Twitter