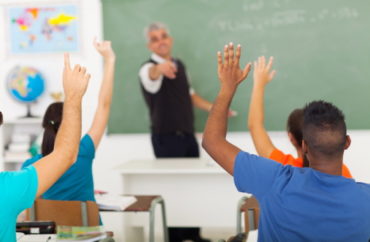 'Groupthink is dangerous to our democracy,' creator says
An American educator is persuading schools to implement viewpoint diversity in the classroom.
Erin McLaughlin is a teacher from Pennsylvania who is making headlines with her approach to classroom instruction. She argues that viewpoint diversity, which is teaching students how to think rather than what to think, should be at the center of many curriculums.
McLaughlin, in an interview with The College Fix, said that it is the job of educators to teach children how to process things as opposed to what to advocate for.
"First of all, I want to be clear that I am wholly in favor of diversity and inclusion efforts, and a truly inclusive classroom or school would necessarily mean acknowledging and not marginalizing diverse viewpoints," she said to The College Fix via email. "Secondly, it is the job of educators to put inquiry above advocacy and to teach students how to think, not what to think."
Mclaughlin told The Fix that she does not "see viewpoint diversity as a political statement, but as a fundamentally human one."
"It acknowledges that each of us has a perspective that is a culmination of our education and our experiences," she said. "No one's education or experience is all-encompassing or complete. At its core, viewpoint diversity works as a framework for education because it includes and allows for differences with one striking similarity—that we all have more to learn. Understanding ourselves and each other better provides a positive path forward not just for our schools, but for our society."
"Democracy needs diverse viewpoints—that is how it works—and groupthink is dangerous to our democracy," she said.
Creating a viewpoint diversity curriculum
McLaughlin was first inspired to advocate for viewpoint diversity when she was a graduate student at the University of Pennsylvania during the 2016 presidential election.
"I live in one of the counties that went twice for Obama in the previous elections, but that year it flipped to Trump," she said. "As a result, I saw the vilification and demonization of many of my neighbors."
It was then that she "learned a great deal about the polarization in our country, which has only worsened since then, and the fact that this polarization is actually a worldwide phenomenon," she said.
"I was lucky enough to study under Jonathan Haidt, and I learned much more about moral psychology and human behavior" in her master of applied positive psychology program, she told The Fix. "My goal was, and is, to find a positive path forward so that we don't have to be so divided anymore. Stronger, more educated individuals make for a stronger, more educated democracy."
McLaughlin found a path forward by creating a viewpoint diversity curriculum. She began this project by reading quite a bit about the topic, because there was no current, clearly delineated literature on the subject.
"To create a curriculum and to know if it works, I had to make sure there were ways to measure what I was trying to achieve," she explained. "So first I had to decide what skills viewpoint diversity involves that are teachable and measurable. I make the argument that teaching viewpoint diversity involves increasing self-awareness, cultivating intellectual humility, and developing actively-open-minded thinking skills."
She said that her "work is rooted in the science of positive psychology, so it is strengths-based, and it provides an academic framework for positive education."
"In the end, it is a practice, not a program, that a school adopts as a commitment to improving its own culture—to promote inquiry, understanding, and individual and collective well-being as the crux of education," she explained.
Viewpoint diversity transforms classrooms
McLaughlin has seen many ways viewpoint diversity has helped students over the years.
She related one anecdote of how she had a discussion about microaggressions with her students, which was "both illuminating and alarming."
"The conversation was about microaggressions, and none of my students would say anything," she told the story. "I knew them really well at that point, so I stopped to find out what was going on. Finally, one student told me that they can't talk about that[, saying,] 'If we say the wrong thing, we can get canceled.'
The class murmured in agreement and other students began to speak up, according to McLaughlin.
"That's how it works—someone can even film you, edit it, and you're done," another student expressed.
"Cancel culture is an absolute affront to viewpoint diversity, and my students know it, but they don't know how to navigate it," McLaughlin told The Fix. "The stakes are real. So we had a good conversation—cancel culture is censorship, and censorship certainly does no good in terms of changing anyone's mind. It just drives discussions into darkness."
She said many people are afraid of embracing viewpoint diversity and stepping aside from advocacy because of our current intellectual climate that involves a good helping of cancel culture and identity politics.
"Aside from cancel culture being a real threat to people, I think the fear comes from a long campaign to promote identity politics—and it's a practice that has infiltrated the entire political system," she said.
"Identity politics is a tool used by the left and the right—and it's been harmful to the unification of our country," she explained. "We actually aren't more divided on the issues—we're more divided by party."
She said that the "fear of stepping away from advocacy is understandable" because "nobody wants to be left behind."
"What we forget sometimes is that we are all human, we all want to be understood," she explained. "I don't actually believe most people want to be labeled, but how else do people proceed in this political environment? This is where education comes in. Schools must return to teaching inquiry, helping kids to ask good questions and find constructive paths forward."
McLaughlin said that students and parents can promote viewpoint diversity by simply talking about it.
"Not enough people even acknowledge viewpoint diversity as a basic kind of diversity, yet every single person has a unique point of view," she said. "Be curious, not judgmental. Know your own strengths and biases. Recognize that you always have more to learn from other people. And if you feel certain that you're right, leave a little room for the notion that you might be wrong. "
Partisanship over viewpoint diversity
The College Fix also reached out to Harvey Mansfield, a professor of government and author, who teaches political philosophy at Harvard University, to get his perspective on viewpoint diversity in the classroom.
Mansfield said that viewpoint diversity, which he practices in his classroom, is "the most valuable kind of diversity that there is."
"The good diversity comes naturally and spontaneously when we realize that race and sex offer contributions to our common life," he said. "The bad diversity is artificially manufactured, as in affirmative action, which seems arbitrary because it is imposed."
Even in some of America's best schools, according to Mansfield, partisanship is promoted over viewpoint diversity without hesitation.
He said he knows viewpoint diversity is possible even today but "one needs to be ready to defend it."
The Fix also reached out to Patrick Egan, a professor of politics and public policy at New York University and Allan Lichtman, a history professor at American University, to ask about viewpoint diversity in the classroom. They did not respond to multiple requests for comment.
MORE: Student who put his school 'up for sale' on Craigslist suspended, banned from graduation
IMAGE: Shutterstock
Like The College Fix on Facebook / Follow us on Twitter