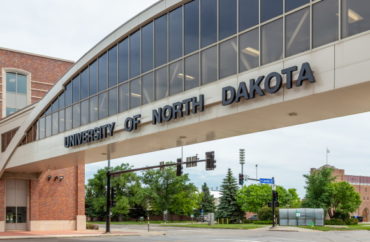 Law also bans mandatory diversity statements
Public colleges and universities in North Dakota can no longer require students or staff to undergo noncredit diversity, equity and inclusion training under a new law that takes effect Aug. 1.
The legislation, sponsored by six Republican state lawmakers, also bans mandatory diversity statements in hiring and admissions.
"An institution under the control of the state board of higher education may not ask the ideological or political viewpoint of a student, job applicant, job candidate, or candidate for promotion or tenure," it states.
The North Dakota law came before the highly publicized new laws in Florida and Texas that ban DEI offices in higher education altogether. North Dakota's legislation was not bragged on and garnered little attention, the Chronicle of Higher Education reported.
"Gov. Doug Burgum, a Republican, signed Senate Bill 2247 into law with little fanfare. His office issued no press release about its signing. Only the senate journal includes a communication from the governor stating that he signed the bill along with others," the Chronicle reported.
The law prohibits public universities from compelling students and employees to attend noncredit seminars, workshops or orientations that include what it calls specified concepts. Specified concepts listed in the bill include that:
One race or sex is inherently superior or inferior to another race or sex;

An individual, by virtue of the individual's race or sex, is inherently privileged, racist, sexist, or oppressive, whether consciously or subconsciously;

An individual should be discriminated against or receive adverse treatment because of the individual's race or sex;

An individual's moral character is determined by the individual's race or sex;

An individual, by virtue of the individual's race or sex, bears responsibility for an action committed in the past by other members of the same race or sex;

A meritocracy is inherently racist or sexist, or designed by a particular race or sex to oppress another race or sex;

[North Dakota] or the United States is fundamentally or irredeemably racist or sexist.
The trainings also cannot promote division between sexes and races and classes of people or ascribe a character trait, value, moral or ethical code, privilege because of the individual's race.
Under the law, universities also may not use funds appropriated by the state "to incentivize, beyond payment of regular salary or other regular compensation, a faculty member to incorporate a specified concept into academic curriculum."
However the law does not institute a DEI instructional blanket ban.
It does not prohibit, limit or restrict "the academic freedom of faculty or to prevent faculty members from teaching, researching, or writing publications about the specified concepts or related topics," it states.
An exception for training on federal and state nondiscrimination laws is also included.
Tom Dennis, the University of North Dakota's spokesman, told The College Fix via email that the school's lawyers "are still going over the legal elements of North Dakota Senate Bill 2247, in order to offer guidance for the campus on the issue."
"But we can note that UND encouraged the Legislature to protect academic freedom and freedom of speech, and these elements are, in fact, included in the new law," Dennis said.
Also spelled out in the law are provisions that explain faculty and staff may still explain DEI concepts if prompted to do so by students' questions, given that "the response does not endorse, advocate, or oppose a (DEI) concept."
But private universities receiving zero state funds may still impose DEI instruction.
University of Mary's spokesman Tom Ackerman told The College Fix via email an important nuance of the law is the legislation only pertains to institutions "under the control of the state board of higher education, and so this bill does not apply to the University of Mary or other private higher education institutions in ND."
MORE: Gov. DeSantis signs law to defund, eliminate universities' DEI programs
IMAGE: Ken Wolter / Shutterstock
Like The College Fix on Facebook / Follow us on Twitter